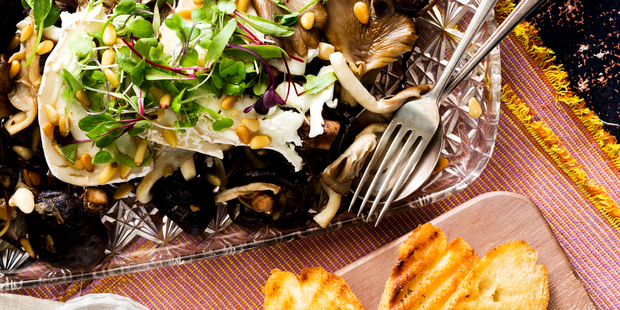 Serves 4
• 2 Tbsp olive oil
• 2 cloves garlic
• 500g mushrooms
• 3 sprigs thyme
• 100g goat's cheese
• ¼ cup toasted pinenuts
• Micro greens to garnish
Aioli
• 2 egg yolks
• 2 cloves roasted garlic,
• 2 Tbsp lemon juice
• 1 tsp dijon mustard
• 300ml sunflower oil
• 1 tbsp boiling water


1. To make the aioli: place egg yolk, garlic, lemon juice and mustard in a blender. Slowly add the oil in a steady flow, until thick and glossy. If too thick, add the boiling water.
2. To make salad: Heat oil in a frying pan, add garlic, mushrooms and thyme. Cook for 5 minutes or until cooked through, turning a couple of times.
3. Serve immediately with the sliced goat's cheese, a sprinkle of pinenuts, microgreens and a dollop of aioli.
-VIVA