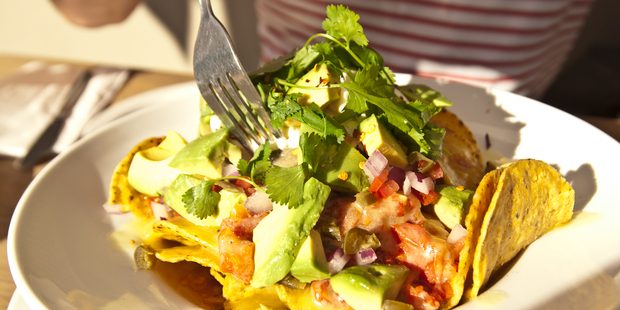 Ingredients
Salsa
• 400 g can chopped tomatoes, drained
• 1 small onion, diced
• Fresh red chilli, finely diced (or 1 tsp chilli flakes)
• A handful of fresh coriander, chopped
• Salt, pepper, a sprinkle of white sugar
• Splash of red wine vinegar
• Blend all ingredients together and set aside.
Black Bean Dip
• 1 ripe tomato, diced
• 2 tbsp red onion, diced
• 2 tbsp coriander, chopped
• 1 400g can black beans, drained
• 2 tsp ground cumin
• 1 tsp hot sauce (tabasco or equivalent)
• Salt and pepper
Mix together.

1. Place corn chips (plain Mexican style or barbecue Doritos) on an ovenproof plate.
2. Put some black bean dip on the side.
3. Pour preferred amount of salsa over corn chips, add some chopped avocado and top with a handful of coarsely-grated mild cheese.
4. Place in the oven, pre-heated to 180C, for 2-3 minutes, just until cheese starts to melt.
Serve with chopped jalepeno pickles on the side.