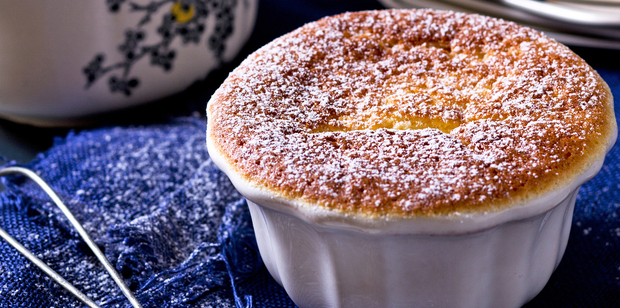 Serves 4
2 lemons, zested and juiced
50g butter, softened
1 1/4 cups caster sugar
3 eggs, separated
3 Tbs self raising flour
1 1/4 cups milk
Cream to serve
1 Preheat the oven to 180C. Grease 4 ramekin dishes.
2 Cream the lemon zest with the butter and sugar until pale.
3 Gently stir in the egg yolks.
4 Whisk the egg whites until firm.
5 Fold in the flour and milk then stir gently until the mixture is smooth. Fold in the egg whites.
6 Pour the batter into the prepared ramekins. Place into a baking dish and pour hot water to reach halfway up the sides of the dishes.
7 Bake for approximately 25 minutes or until set, then serve hot with cream.