Making gifts is always a thoughtful gesture, and these morsels are sure to spread some cheer.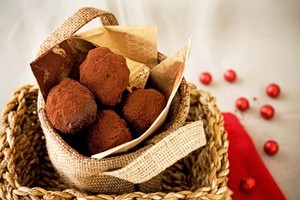 This year I have come over all traditional with classic Christmas recipe ideas that make for delicious gift ideas. The wonderful thing is that all of these recipes can be made now and will keep perfectly for Christmas Day - so you can tick them off your 'to do' list nice and early.
The Christmas mince, especially, suits being made early as it only gets better with time. I have made it a little differently by replacing the dried sultanas with dried blueberries. The flavour is sharper, which I prefer, and the dried blueberries soften and add a pleasant texture to the mince. Spooned into sterilised jars, this can be given as a gift as is or put on the shelf and used to make tarts to give as pressies.
Chestnut purée is a divinely smooth, sweet paste and when put into the centre of rich, dark chocolate makes for a special truffle. A light dusting of the purest cocoa powder adds a slight bitterness to counteract the sweetness of the chestnut and chocolate.
These can be made in advance, kept chilled and then popped into a handsome box nestled among some beautiful tissue paper. Made with love, they are better than a gift voucher, that's for sure.
A jar of home-made cranberry sauce mixed with tinned redcurrants - or fresh, if you are lucky enough to find them - is a scrumptious sauce to use on the big day but it also makes for a good present to use with the inevitable Christmas leftovers. It's tasty with turkey, chicken, duck and ham.
Chef's tip
Chestnut purée is available at gourmet food stores or you can drain tinned chestnuts and purée with vanilla and sugar. Have a nosy in second-hand stores and op shops for gorgeous old jars then pair with beautiful ribbons.