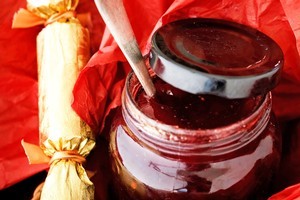 Serves 4-6 or 2 x 150g jars
250g dried cranberries
cup port
1 cinnamon stick
1 orange
1 lemon
100g brown sugar
100g redcurrants. If tinned they will need to be drained, or use fresh
1 Put the cranberries into a small pan with the port and cinnamon stick.
2 Finely grate the orange and lemon zest then add to the saucepan with the juice.
3 Add the sugar and the redcurrants then bring to a boil. Reduce the heat and simmer for 30 minutes.
4 Remove the cinnamon stick before serving or pouring into warm, sterilised jars.