Show Dad how much you care this Sunday with these delicious recipes.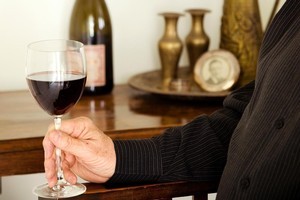 There is no doubt that my father loves food, so when contemplating his favourites I was prepared for a challenge to just choose three. But they quickly sprung to mind. Years ago I made a salmon dish that he adored - a side of salmon wrapped in pastry with ginger currant butter - very delicious but also rich, and better suited as a main course. So I have taken the salmon element and paired it with a warm potato salad, adding lots of capers, mustard and parsley.
You could make an aioli-based dressing, but I have taken a lighter route using creme fraiche - which still has a creamy texture with a fresher flavour.
For the main course, I dug out one of my favourite cookbooks by Robert Carrier, whose glamorous recipes I used to paw over.
Beef tournedos are made with succulent small rounds of eye fillet sitting upon a creamy garlic mushroom puree on top a thinly sliced round of buttered toast.
This dish is very delicious, impressive and straightforward to create - you can't go wrong.
Add a melting circle of herb and green peppercorn butter and all will be quiet at the table apart from a few satisfied "mmmms".
For dessert, tinned guavas had to be the one. While Dad also loves rhubarb and lychees, when I was growing up there would always be a bowl of tinned guavas in the fridge ready to spoon on to cereal in the morning or to have with custard and icecream in the evening.
They pair perfectly with a sponge topping to make a simple but comforting dessert to finish the menu.
This past year two of my dear friends have had their fathers pass away. They miss them terribly. Take some time this Father's Day to spend a while with your dad, open a special bottle of wine, cook him some of his favourite foods, listen to the stories or in my case the advice, and simply enjoy some time together.
Happy Father's Day.
Chef's Tip
Look for small waxy potatoes for the salad. New season potatoes and urenika work well - don't peel, just gently scrub to enjoy the flavour and goodness in the skin.