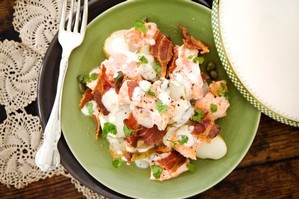 Serves 4
500g small waxy potatoes
100g streaky bacon - optional
2 Tbs creme fraiche
1 tsp Dijon mustard
2 tsp seed mustard
2 tsp lemon zest
1 Tbs capers
2 Tbs parsley, chopped
Salt and pepper
1 x 300g salmon fillet
1. Boil the potatoes until tender, let cool then slice into rounds. Grill the bacon until crispy then break into pieces.
2. Mix together the creme fraiche, both mustards, lemon, capers, parsley and seasoning. Mix together with the bacon and potatoes.
3. Heat a frypan, season the salmon and cook with the lid on for 10 minutes. Remove the skin then break the salmon into pieces before adding to the salad.
Chef's Tip
Look for small waxy potatoes for the salad. New season potatoes and urenika work well - don't peel, just gently scrub to enjoy the flavour and goodness in the skin.