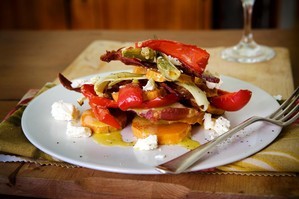 Serves 4
3 kumara
1 large fennel bulb
Olive oil
1 tsp cumin seeds
2 red capsicums
Salt and freshly ground black pepper
12 rashers of streaky bacon, preferably free-range
100g feta
Fresh thyme
2 Tbs extra virgin olive oil
1 Tbs fresh lemon juice
1 Preheat oven to 200C. Peel and slice the kumara into rounds. Season and spread out on an oven tray.
2 Cut the core from the fennel bulb, discard then cut the fennel into lengths. Toss with a tablespoon of olive oil and the cumin seeds, spread out on another oven tray.
3 Core and remove the seeds from the capsicums. Slice, season, drizzle with olive oil and bake along with the other ingredients for 30 minutes. Cook the bacon under a hot grill until crisp.
4 Layer the ingredients on serving plates then crumble over the feta. Scatter fresh thyme and drizzle each plate with extra virgin olive oil and a squeeze of lemon.