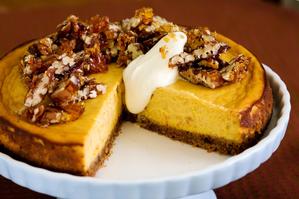 Serves 8 (Makes 1 x 20cm cake)
Base
1 packet digestive biscuits
1/4 cup brown sugar
100g butter, melted
Filling
600g piece of pumpkin,
1/2 peeled with seeds removed
1/2 cup brown sugar
1/2 tsp cinnamon
1/2 tsp ground ginger
1/4 tsp nutmeg
1/4 tsp salt
450g cream cheese, at room temperature
3 eggs
1 tsp vanilla extract
Topping
1/2 cup caster sugar
1/2 cup water
3/4 cup pecans
Cream to serve
1 Break up the biscuits and put into a food processor with the sugar. Pulse until a fine crumb. Tip into a bowl and mix in the butter. Press into a lined spring form tin and refrigerate.
2 Preheat the oven to 200C. Chop up the pumpkin, place in a baking dish and cook for 30 minutes or until soft. Remove and mash with a fork. This step could also be done in the microwave if preferred.
3 Reduce the oven to 170C. To make the filling, combine the pumpkin with the sugar, cinnamon, ginger, nutmeg and salt. Add the softened cream cheese then beat in the eggs and vanilla. Spoon into the base and bake for 40 minutes or until just set when you gently shake the tin.
4 Put the sugar and water into a small saucepan and cook until a dark caramel colour. Take off the heat, add the pecans then tip out onto baking paper and leave to cool. Roughly chop before piling on top of the cheesecake. Serve with cream.