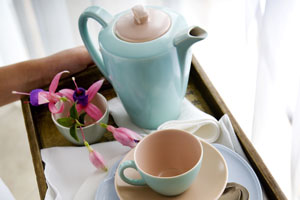 This Mother's Day is all about me. When not tapping away at the laptop, I am spending my time furiously eating as much (mostly) nutritious food as possible to keep my 3-week-old baby daughter happy and replete.
The thought of breakfast in bed is heavenly and if this menu is whipped up and delivered by loving husband and sons, what a contented mother I will be - although a cup of tea offered as I struggle to lift my head off the pillow after a three-hour sleep stint is probably more of a reality.
This Mother's Day menu can be offered in its entirety or you can pick and choose the bits you fancy, depending on appetite and prowess.
Bircher muesli is deliciously creamy and is prepared the night before. The oats and currants soften and swell in pear juice and grated pear and roasted hazelnuts provide texture.
This is followed by a warm coconut crumpet or two straight from the pan, drizzled with wild thyme honey and a spoonful of creme fraiche.
Quinces are in the shops now - they are a magical fruit, transforming themselves from hard and inedible to luscious and ruby red during long, slow cooking. Add aromatic ingredients, a little butter and some juice and the result is superb.
Happy Mother's Day to all the mothers, stepmothers and grandmothers - the attention you get will be well deserved, so enjoy.
CHEF'S TIP
Wild thyme honey from J. Friend and Co, is a Cuisine artisan award winner for 2010. A lovingly made single varietal organic honey from Waikerikeri Valley in Central Otago, it has a distinctive bold thyme flavour. You'll find it in delis and gourmet food stores, or check stockists on their website nzartisanhoney.co.nz.