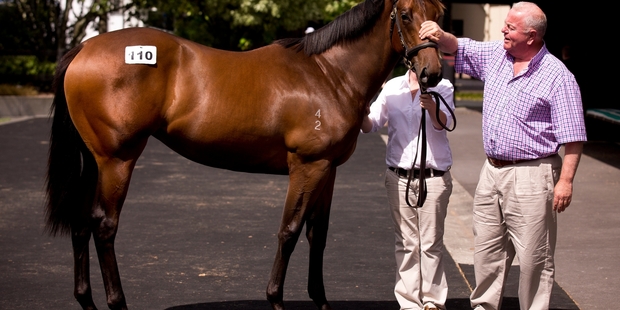 If you are going to seek emotional support you may as well go right to the top.
Prime Minister John Key sat next to David Ellis when Ellis, the Te Akau principal, paid $370,000 for the half brother by O'Reilly to Darci Brahma at Karaka yesterday.
If the price before the sale was in the realm of auction mystery, the sale itself was predictable.
"We've bought all of Grand Echezeaux's yearlings for Te Akau," said Ellis. They include Darci Brahma and Burgundy.
"He's a typical O'Reilly yearling, very strong. He won't be a 2-year-old, but he's the type of horse you could see in the 2000 Guineas.
"The $370,000 is a lot of money for a horse, but out of that mare he's good buying."
You have only to look at the winner's spot in any birdcage on raceday to see that winners come in all shapes and sizes.
Buying a yearling might be at auction, but in reality it's a raffle.
That didn't stop Key having a crack at the crystal ball.
"That horse [the $370,000 colt] looks like one that could represent New Zealand," he said to Ellis.
"I'm going to keep an eye on him."
Ellis contributed enormously to the buying bench yesterday, but one purchase had special meaning. Ellis paid $400,000 for the Encosta de Lago - Love Diamonds filly on behalf of John Magnier, head of the global giant Coolmore Stud.
"This is the first time John Magnier will have raced a horse in New Zealand," said Ellis.
"John asked me to seek out a filly that he could race here. What a thrill, you only ever see those racing colours in Ireland or at Epsom and Royal Ascot.
"The filly will be trained by Jason Bridgman."
Son Tom Magnier sat alongside Ellis when the purchase was made.
The filly's second dam is Tristalove, champion 2-year-old and 3-year-old of her years.
Ellis' biggest purchase was the $680,000 he paid for the Fastnet Rock-Randaroo colt, purchased from Curraghmore Stud.
Late in the sale the colt by boom sire Northern Meteor from Sahara Desert made $410,000.
Ellis laid out an awful lot on 26 lots yesterday.
"Probably in the world no one has bought that many horses on one day previously at a major sale," said Ellis.
"I don't know," said Ellis, when asked how much he'd spent.
"All I know is we have secured some really lovely horses."
For the record David, you owe New Zealand Bloodstock $4,812,500.
Other big sales included: O'Reilly-Lodore Mystic $320,000, Rip Van Winkle-Medrano $250,000, Thorn Park-Miss Distinction $310,000, Zabeel-Maldivus $320,000, High Chaparral-Princess Annaliese $320,000, Pins-Savamour $260,000, Thorn Park-Monte Karlo $260,000, Thorn Park-O'Ceirins Angel $240,000, Savabeel-Lucious Legs $250,000 and Zabeel-Shall Not $300,000.