Sydney trip on the agenda for Cambridge filly after she proves too strong in NZ Oaks.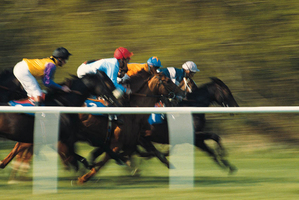 A small part of Tony Pike's heart cringed as More Than Sacred dashed over the Trentham finish line well clear in Saturday's $300,000 Wellfield New Zealand Oaks.
He knew he had to leave Wellington at 6am yesterday to get his 8-year-old daughter Molly to competition at the Horse Of The Year show in Hastings.
The Cambridge trainer made both - the celebration party and the 6am deadline - but not without sacrifice.
"I forced myself to leave the party at midnight, which was not easy," said Pike.
Oaks winning rider Leith Innes shared a hotel room with the trainer on Saturday night.
"I don't know what time Leith got home, but he was in the foetal position when I left him at 6am."
At that time, More Than Sacred was lapping up breakfast, having come through what can sometimes be a gruelling 2400m as she always does - stunningly well.
"She used to be a quirky type as a 2-year-old, but as we've done more with her she has become much more pliable," said Pike.
More Than Sacred has literally got better with each race. To the point that three races back she wasn't even considered for the Oaks.
"Leith said after this race it was the first time she'd sprinted in running."
The improving filly sprinted twice, in fact. Once leaving the home straight to get up outside the leader from a midfield position and again when asked for her best soon after rounding the home bend.
Innes had intended moving forward early to get outside the leader, but the pace was on to the extent the bend out of the home straight arrived before he got there.
It meant using a fair bit more gas than anticipated, but More Than Sacred relaxed in the back straight.
When Innes asked for the second sprint the filly put a further length on the opposition and fought bravely right to the line.
"She has always been strong on the line and strong past the line," said Pike. "In almost all of her races, she's been the last one to pull up. It's always a good sign."
The horseman figures the group one victory probably doubled More Than Sacred's broodmare value.
"If she hadn't done much to this point it would have improved her value times four, but she'd already won a group three so she was valuable property before the race."
When the nominations closed for the Australian Oaks in Sydney on Tuesday, More Than Sacred was included. Pike is well aware his filly will be required to step up to another level, but he figures it's worth a shot.
"When you get a filly like her they have to step up again at 4 and to be effective they have to be up to Cup class.
"So you have to maximise what you can at 3 and there is truth in the old saying that they're 3 only once.
"If there were any concerns after this race, which I doubt, we can always give her a short break and look at Brisbane in the winter."
Innes swung the right way when he elected to stay at home to ride More Than Sacred rather than be in Sydney to take the mount on Sacred Falls, who races in the same ownership, in the Randwick Guineas.
The talented pair are owned by Raffles Dancers (NZ), the principal of which is Dato Yap.
The Oaks Stud quinellaed last year's Oaks and came close again with Blanket Bay and Aurora Lights.
•No, Paul Richards hadn't previously trained a Trentham winner.
And, no, he could not remember the last time he and his winning rider on Saturday, Chris Johnson, rode out a tight finish.
"Mind you, I retired more than seven years ago. And I rode in a lot of races against Chris."
The pair were cheering in tandem as Natuzzi strode away from a pretty useful sprint field at Trentham.
Richards bought Natuzzi from Ross Beckett after the impressive type had finished a couple of placings at barrier trials as a 2-year-old.
"We probably paid a good price for him given he hadn't won a trial, but he kept getting back through greenness and running on. I really liked him."
Richards likes the impressive sprinter even more now.
•Neena Rock isn't a coming star - she's already one. The only thing she needs to achieve that is to get some ringcraft. The Fastnet Rock filly might have won at Trentham by a football field, but she had no idea what she was doing. Wait until she does. She is a real excitement machine.
•Brave Centaur can win a nice race after his effort at Te Rapa on Saturday and Ambitious Champion would have slept well after losing 10 lengths, slipping behind coming out of the starting stalls and being beaten by half a length.