Derby favourite to work on the beach instead of contesting the Waikato Guineas.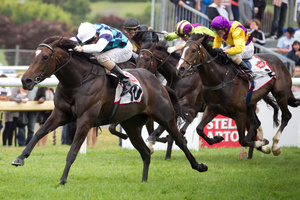 A drive through Waikato yesterday was all it took to convince trainer Donna Logan that Habibi will not start in Saturday's Waikato Guineas at Te Rapa.
Logan took time out from a busy week at the Karaka sales to drive down to Waikato to drop her son back to boarding school.
But she wasn't just being a loving mum, she also used the trip as a reconnaissance mission to look at the Te Rapa track.
"It was really firm and too firm for what I want at the moment," she told the Herald.
"They have been irrigating since Monday and it was still a Good (3) and she doesn't need to start on that.
"I am sure it is fine for plenty of other horses but I don't want her racing on a really firm track right now."
So Logan will change tack, with her new major target being the Avondale Guineas at Ellerslie on February 17.
"We also have the option of going back to Te Rapa next week if there is some rain in the interim, but, really, I'd rather go to Ellerslie.
"The more experience she has right-handed before the Derby the better."
Habibi is the $4 favourite for the TV3 Derby at Ellerslie on March 2 after her two stunning wins over the male 3-year-olds at the Christmas carnival.
Logan says she has thrived since then.
"Even though the weather has been very hot we are lucky we have the beach to work on at home," she said.
"I have miles of nice flat sand to get her ready on, so she is fit enough.
"So, missing this race is no panic for us."
It does, sadly, rob the Waikato Racing Club and punters of an early Derby preview as Habibi was totake on Derby second favourite Weissmuller on Saturday.
The Wellington Stakes winner has drawn ideally at barrier six in the $100,000 group two feature over 2000m, which last season provided such a great form line to the biggest races.
On that occasion Silent Achiever just downed Ocean Park, with the filly going on to win the NZ Derby and Ocean Park the Cox Plate during a spring weight-for-age rampage. There will be at least one Derby winner at Te Rapa though, with last season's VRC Derby winner Sangster headlining the $25,000 open handicap.
He returned to something like that form with a last-start second at Trentham and remains the $6 favourite for the Auckland Cup, having been joined at that quote by Annie Higgins after her brave second last Saturday.
Meanwhile, trainer Stephen Marsh says any Australian campaign for Sunday's Karaka Million winner Ruud Awakening will take a back seat to chasing local group one glory.
Which means she will return to Ellerslie for her next start in the Diamond Stakes on March 9.
"Getting a group one is first and foremost," says Marsh.
"We are still keen to go to Australia maybe after that depending how it all pans out but at the moment she has won two listed races.
"And it would be real shame to take her to Aussie, something go wrong and she doesn't get a group one.
"So she can chase the Diamond and after that we can work out what happens next.
"If that means Australia and maybe even the Golden Slipper, then great but it is one-step-at-a-time stuff for us at the moment."