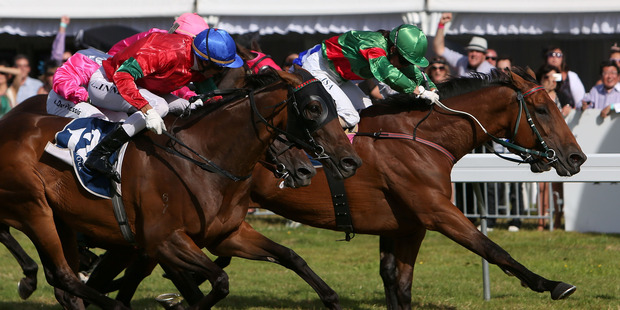 Lisa Alpress, in green, right, gets Blood Brotha home in the Group three Pacific Jewellers Wellington Cup over 2400m at Trentham yesterday. Photo / Getty Images
Cambridge trainer Gary Alton added to a proud family history at Trentham when he saddled up Historian for a win against the odds in yesterday's group one Harcourts Thorndon Mile.
Just three weeks after the death of his father Ian, one of the major influences in his own career in racing, Alton attained a minor milestone with his 50th win and more significantly, his very first at black-type level. His biggest previous win had been the 2011 Parliamentary Handicap with his parents' horse Brompton.
"I can remember back when I was 11 or 12 coming down here with my father and helping him with a horse called Orangeman," Alton said as he savoured yesterday's big win. "From memory he won the highweight two years running on the first day of the Cup carnival."
Some years before Alton was born, his grandfather Archie Millen had the distinction of being the owner of the champion galloper of his time, Somerset Fair, whose raft of wins included the Wellington Guineas, Trentham Stakes, Gloaming Stakes, North Island Challenge Stakes and Harcourt Stakes at Trentham.
That horse's close relation Dare Devil, whose wins in the Alton colours included the Canterbury Gold Cup, Hawke's Bay Guineas and Clifford Plate, finished second in the 1971 Wellington Derby, while in the same decade Miss Otakiri, who was likewise owned and trained by Ian Alton, won the Pearce Handicap on the track.
Historian's jockey Rosie Myers stayed cool after being caught three wide in the early running but was able to keep a little up her sleeve when Jetset Lad worked around Historian and provided cover around the final turn.
After peeling off that horse's back on straightening, Myers got the best from her mount to register a second Thorndon win to go with last year's victory on Say No More.
In a thrilling finish, Blood Brotha held off Annie Higgins to add the group two Pacific Jewellers Wellington Cup to his two New Zealand Cups at Trentham yesterday.
Regular rider Lisa Alpress had the seven-year-old Danzighill gelding handy for most of the journey and loomed up to challenge for the lead at the head of the straight.
Blood Brotha saw off a determined challenge from Vinnie Colgan on Dolmabache on the inside, and then had to hold off the fast-finishing Annie Higgins to claim the lion's share of the $200,000 purse.
It was the Raymond Connors-trained gelding's eighth win in 45 starts and it ticked him past the half-million dollar mark in prize money.High Fashion entered New Zealand Bloodstock Filly of the Year calculations with a hard fought win in a head-bobbing finish to the group three Tiger Prawn Desert Gold Stakes at Trentham yesterday.
After shadowing the pacemaker If I Can I Can, High Fashion took over on straightening and never flinched under Hayden Tinsley to hold out the late finishers Lucky Country and Soriano by a nose.
Across the line the trio of quality fillies were locked together, and judge Dick Hunt gave his initial call to High Fashion with the warning that the minor placings could go either way. As it turned out he was unable to split Soriano and Lucky Country and declared a dead-heat for second.
In the final wash-up High Fashion emerged with six points on the Filly of the Year table, placing her fifth equal behind current leader Fix on 19.5 points, Rollout The Carpet (15), Soriano, whose placing yesterday took her to 14.25, and Waterford on 8.5.
High Fashion, the latest stakes-winning filly sired by O'Reilly, was one of two runners in the feature race from the Kevin Gray stable. The other, Eulogy Stakes placegetter Lovetessa, finished sixth.