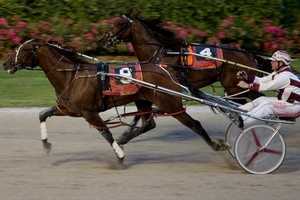 Multiple New Zealand Cup-winning driver Anthony Butt has thrown a curve ball into calculations for this year's race.
And it is one that will have Australian bookmakers trembling.
Butt is the trainer and driver of Stunin Cullen, who opened as one of the favourites for the Cup when the first market was released last night.
As a former Hunter Cup winner with $1.4 million in the bank, Stunin Cullen would seem certain to be Butt's Cup drive.
However, he says he won't make that decision for at least another month because he has been so impressed by stablemate Mah Sish.
The latter was one of the big movers in the open-class ranks last season, going from being an unheralded lower-grade pacer at the start of the term to finishing fourth in the Auckland Cup.
He also staged a huge performance in the star-studded Easter Cup and Butt is adamant Mah Sish has gone to a new level this campaign.
The 6-year-old suggested Butt is right by holding out defending Cup champion Terror To Love at the Addington trials yesterday.
The pair clocked a fast 3:13.7 for the standing start 2600m and while Terror To Love was not asked for his best in the straight, Butt says neither was Mah Sish.
"I think people underestimate this horse, he is the real deal," said Butt.
"I think there is nothing between him and Stunin Cullen now so I could drive either in the Cup."
The pair won't clash for at least a month, with Stunin Cullen to take on Franco Emirate and a host of other stars at Addington this Friday whereas Mah Sish will head to the Hannon Memorial at Oamaru a week later.
"So once they have had a few races I will make my decision and there are plenty of good drivers around for the other horse, whichever one that is."
Mah Sish emerging as a Cup threat would be bad news for the Australian TAB, which opened him at $61 in its markets last night before being swamped, bringing him into $26.
The New Zealand TAB opened Mah Sish at just $15, with Auckland Reactor the $5 favourite over Terror To Love at $6 and Sushi Sushi at $7.
Two-time Cup winner Monkey King, who is expected back from retirement this week, is rated a $21 chance.
The best value with the TAB is Australasian Breeders Crown winner Caribbean Blaster, who opened at $16.
Trainer Andy Gath told the Herald last night that the 5-year-old was likely to be at Addington for the Cup on November 13.