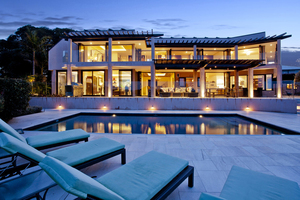 The biggest house sale so far this year is an $8.1 million home in Auckland's North Shore suburb of Takapuna, with private access to the beach.
Property experts say the fact that it sold in January - traditionally the market's quietest month - indicates big sales can be expected this year.
It is already more expensive than nine of the top 10 biggest sales for all of last year.
The Takapuna house, at 8 Minnehaha Ave, on a 1911sq m section, sold for $5.67 million in March 2011, so a profit of $2.43 million was made, less renovations completed last year, in less than two years.
Its capital value, set in July 2011, is $5.6 million.
According to Quotable Value records, it was sold by mechanical engineer Gary Holden and his wife, Patricia.
Mr Holden has dual New Zealand and Canadian citizenship and has held a variety of management positions in the energy and utilities industries in both countries.
He moved to New Zealand after resigning as chief executive of Calgary electricity company Enmax, which experienced several scandals associated with spending. He took up a new job as chief executive of payday advance broker Cash Store Australia but resigned last month.
Precision Real Estate agent Andrew Dorreen was reluctant to talk about the sale and would not say who the new owners were. But he confirmed they were New Zealanders.
The 700sq m solid-concrete home has four bedrooms, each with its own bathroom, as well as an additional two bathrooms, a library, wine cellar, two formal areas and three informal areas, triple garaging and off-street parking for up to 10 cars.
The floors are a mixture of American oak and marble and are heated by 90 solar panels on the roof.
The listing says a great addition to the house is the "cafe", which is equipped with a second kitchen, plasma screen TV and bifolding doors leading to an outdoor fire.
A separate guest suite features a small kitchen, bathroom, gym, office space and a solar-heated swimming pool and bocce court outside.
Real Estate Institute of New Zealand chief executive Helen O'Sullivan said that although there was unlikely to be a flurry of $8.1 million sales in Auckland, more sales around the $2 million mark were likely.
"It is really interesting in terms of an indicator of the top [sales so far] ... The fact that things are transacting at that end of the market that early on is a positive sign.
"A lot of the $1 million-plus sales are not palatial mansions, they're half sections in Remuera or Epsom with nice houses."