Internet Party leader says copyright laws haven't changed since gran was in industry.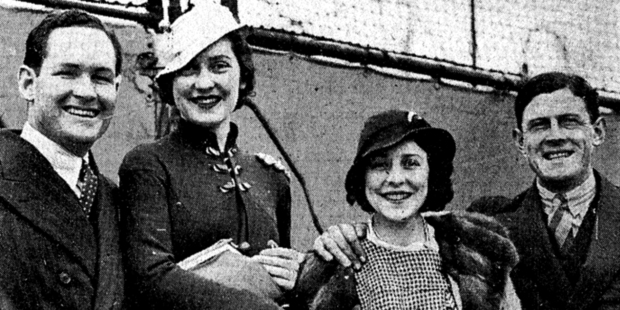 Internet Party founder Kim Dotcom is at war with Hollywood, but party leader Laila Harré has links with Tinseltown, where her grandmother went in search of fame and fortune after winning the New Zealand leg of one of the first global beauty pageants in the 1930s.
Ms Harré says New Zealand's copyright laws have not moved on from that age and her party wants them reviewed so there is less incentive to illegally download movies.
Ms Harré's grandmother Joyce Neilsen was 21 when she won New Zealand's version of "The Search for Beauty" contest run in 15 western countries in 1933 to find good looking young men and women to appear in a Hollywood film of the same name.
"She was always described as the first Miss New Zealand to us," Ms Harré told the Herald yesterday.
"I think it was the first international beauty contest that was run here."
But interviewed in the Auckland Star on her return, Miss Neilsen, who had a minor speaking role in the film, said Hollywood proved to be a tough town with 12 hour work days that proved "a great strain".
"The impression of people overseas that it is inhabited exclusively by wealthy people who spend their time enjoying themselves is entirely wrong.
"There are many people in Hollywood who have gone there in the hope of getting an engagement on a picture and there is certainly a lot more hard work done there than in a lot of other towns."
Seventy years later Ms Harré is leading a political party bankrolled by a man Hollywood heavyweights regard as one of the world's leading internet pirates and a major threat to their business.
Ms Harré says that when her grandmother was in the movie business it was "a celluloid industry and our copyright laws and the regime internationally is of the celluloid age". "We've failed to develop ways of protecting and sharing creative work that are relevant in the digital age.
While critics may say the Internet Party's policies to amend NZ copyright law are driven by Mr Dotcom's self interest, Ms Harré says her party would reduce illegal downloading of films and ensure New Zealanders can legally download films, television shows and music from official sources overseas.
Local internet company Slingshot is facing legal uncertainty over plans to offer a service that allows users to beat geoblocking rules that prevent people in New Zealand from downloading shows from the US before they have been seen on Kiwi TV.
"We want to remove any legal uncertainty for people who buy content that is legally available in another jurisdictions through circumventing geoblocks, Ms Harré said.
That would "absolutely" have an effect on illegal downloading.
"The people who download the most illegal content are also the people who access the most legal content. They're high consumers of digital material and the best way to reduce the incentive for piracy is to make it easier for people to legally access content."
Perhaps more controversially, the Internet Party wants to strengthen so called "safe harbour provisions" which offer internet companies that host content protection from prosecution for copyright breaches by users.
That would mean while companies still had obligations to remove material from their servers that was known to be pirated or objectionable, "they are not legally responsible for the actual content that passes through their systems".
Ms Harré counters suggestions that policy might be seen to serve the interests of alleged internet pirates like Dotcom by pointing out his current business Mega already has its data centres outside of New Zealand in jurisdictions with strong safe harbour laws.
Meanwhile the trial over the US bid to extradite Dotcom to face internet piracy and racketeering charges which was scheduled to take place shortly has again been postponed, meaning it won't play out against the backdrop of the election campaign.
Ms Harré says she doesn't know whether the trial would have been positive or negative for the party's campaign but given the role spy agency the GCSB played in illegally spying on Dotcom before the 2012 police raids on his Coatesville home, and the "real concerns about the influence of an overseas industry on some important areas of New Zealand's policy" the trial "may not have been a disadvantage".