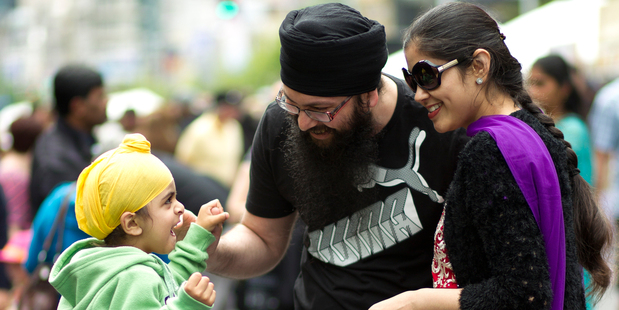 Political parties will be invited to begin their pitch for the Indian vote today at a forum in Ellerslie.
Indians are the fastest growing ethnic group, which according to Census 2013 figures grew 48 per cent to 155,000 since 2006.
Representatives from six parties — National, Labour, Greens, NZ First, Maori and Internet-Mana — will be asked to present their policies on crime, education, tax, home ownership, health and employment at the Kiwi Indian Conclave at the Ellerslie Events Centre. "We feel frustrated that we are being totally ignored and at the same time we are being used," said Veer Khar, president of the Manukau Indian Association.
He said parties were getting ethnic MPs into Parliament through the list, but they will be told at the forum: "Just because someone is Chinese or Indian, it does not make the person a representative of the community.
"They call them representatives of the community even though the community has no say," Mr Khar said. "We want ethnic people but we want quality ethnic MPs, we don't want somebody who just raises funds for you."
Ethnic Affairs Minister Judith Collins, Labour MP Phil Goff, the Greens' Jan Logie and Internet-Mana's Laila Harre are among those who have said they will attend.
National's Sikh MP, Kanwaljit Singh Bakshi, and Labour's Indian MP, Dr Rajen Prasad, have also said they will be at the meeting.
Mr Khar said safety, education, employment and health were issues that needed to be addressed.
"Burglaries are considered to be petty crimes and no effort is made to apprehend the culprits who get emboldened and graduate to more serious crimes like armed robberies," he said.
"Current migrants from India coming with tertiary qualifications are not able to gain employment in the state sector since their qualification and experience are ignored."
Mr Khar said exploitation of international students by local employers was also another issue of concern.
About 60 per cent of recent migrants said they did not vote in the last election, according to Statistics New Zealand.
The General Social Survey found one in five said they didn't vote because they "didn't get round to doing it, forgot or weren't interested".
A further 7 per cent felt that their vote would not make a difference to the outcome.