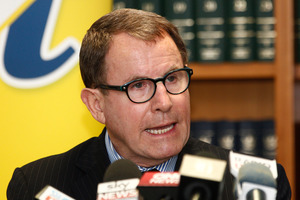 Act Party leader John Banks opened a trust account to fundraise for his legal defence against a private prosecution, new records show.
The annual returns for the register of pecuniary interests was published this afternoon, detailing MPs trusts, property, gifts and other personal interests for the last year.
The register showed Mr Banks had opened a trust called Special Donations Account.
It was used to collect donations for his legal fight against accountant Graham McCready, who accused him of falsely declaring donations during his 2010 mayoral campaign.
A spokesman said the trust contained "less than $100,000".
The register showed Labour leader David Cunliffe's new trust, which he used to take donations for his leadership bid last year.
The TR Trust collected around $9500 in donations from supporters Selwyn Pellett, Perry Keenan and Tony Gibbs and two anonymous donors.
The annual returns revealed that two National MPs benefitted from Government's partial sale of state-owned power companies.
Speaker David Carter bought shares in Mighty River Power and Meridian Energy, and Paul Foster-Bell bought shares in Mighty River Power before he entered Parliament last May.
The register also detailed the various gifts that MPs declared.
In the last year, Prime Minister John Key was given three free golf memberships from New Zealand clubs, as well as two rounds of golf at the Kauri Cliff course and two helicopter rides.
He was also given an iPad by the Sultan of Brunei and three smartphones by Samsung.