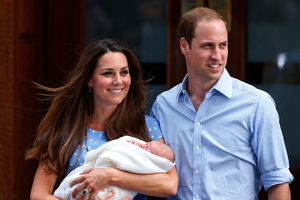 Prime Minister John Keys says he expects New Zealand will remain a constitutional monarchy for longer than previously thought following a resurgence in support for the royal family.
At a post-cabinet press conference today he admitted that in his "heart of hearts" it was inevitable that New Zealand would eventually ditch the monarchy and become a republic. However, that date had likely been pushed out by a resurgence in support for the royal family.
"I think that it's in part because of the young royals. There's absolutely no question that they've added a huge amount of enthusiasm for the royal family.
"Secondly, the Queen has recently celebrated 60 years on the throne. I think there's just enormous respect for her role and the part that she's played and her dedication."
If New Zealand did move from having a constitutional monarchy to becoming a republic and appointing a president with the same powers as the current governor-general, "not a hell of a lot would change", Mr Key said.
"And I just wonder whether New Zealanders would believe they'd get much out of that.
"I think if you put it to the test today, I suspect your polls would show strong and probably post this visit even stronger support for the royal family."
He said he planned to discuss debate around changing the New Zealand flag with Prince William at a formal meeting but expected his reaction would be that it was up to New Zealanders whether to keep or change the country's official flag.
"They're always extremely comfortable with whatever decision New Zealand as a country and New Zealanders make."
Mr Key said the country could remain a constitutional monarchy while changing the flag.
"I think in modern-day New Zealand, as a small country striving on a global and world stage, we run independent foreign policy, we're far more engaged with so many more countries than we ever were before and to me, something like the silver fern - maybe it's got the Southern Cross and who knows what colours - whatever the make up of the flag, it's likely to be more reflective of the indigenous characteristics of New Zealand as opposed to the Union Jack.
"I think it's quite consistent to have a new flag, but to say: 'We want to remain a constitutional monarchy'."