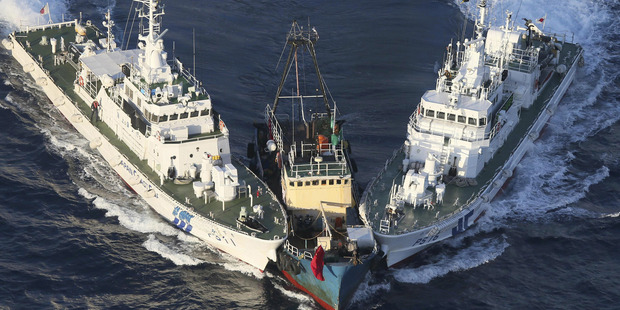 A majority of voters want New Zealand to keep out of any conflict that could flare up in the East China Sea and they do not want the Government to lend even verbal support to anyone.
But a large minority, 20 per cent, wanted New Zealand to support Japan and the United States either verbally or by offering its services to a conflict - and 2.7 per cent thought New Zealand should side with China.
Almost 70 per cent of respondents in the latest Herald DigiPoll Survey thought New Zealand should keep out of any conflict altogether.
But 13.1 per cent thought New Zealand should lend verbal support to Japan and the US and 7.6 per cent thought New Zealand should offer its services to them.
Tensions over disputed islands (Senkaku in Japan and Diaoyu in China) heightened last month when China unilaterally declared an air defence identification zone over the islands, and a demand for all air traffic to alert China.
That prompted the US to send in unarmed bombers into the zone and protest flights by Japan and South Korea.
Australia, which along with Japan and South Korea is in security alliance with the US, openly condemned China's actions leading to a cooling of Beijing-Canberra relations at the start of the new Coalition Government.
Mr McCully declined to comment on the Herald's poll results.
He and Prime Minister John Key have taken a very cautious position, and have declined to criticise China's actions in any way and issued no statements on the matter.
We regard anything that lifts the level of tension in the region as unhelpful, Mr McCully said previously when approached, In fact Defence Minister Jonathan Coleman was visiting China at the height of the crisis.
New Zealand's former Anzus security alliance with the United States and Australia collapsed in the 1980s over New Zealand anti-nuclear position and defence relations have been virtually restored to normality only in the past two years. The US Navy still refuses to enter New Zealand ports, although it has welcomed back New Zealand ships.
Labour's shadow Foreign Minister, David Shearer, was willing to comment on the poll, however, and he thought the New Zealand public was "on the mark here, in preferring to keep out of the dispute.
There is no way this dispute is every going to be solved by conflict particularly between nuclear powers. It is only going to be resolved be negotiation and mediated response. If New Zealand were on the United Nations Security Council, it would be pushing the actors involved towards a negotiated settlement and trying to defuse as much as possible any escalation, he said.
Mr Shearer, a former UN crisis manager, went to New York recently at the invitation of Mr McCully to help New Zealand's campaign for a place on the Security Council in 2015 -16, which will be voted on in October 2014.
Mr Shearer said he met ambassadors to the UN of about 30 countries and he was impressed with New Zealand's campaign.
"It seems to be well organised, quite sharp, very professional. We are batting to where our strategic advantage lies which is with some of the smaller countries and which carries the same vote."
The thought showing a bipartisan approach to the bid was a useful thing to do.
New Zealand's neutral position on the East China islands dispute between China and Japan has been praised by a senior visiting Chinese official.
Dr Yu Hongjun, Vice Minister of the International Department of the Communist Party's Central Committee, said some countries - not New Zealand - had followed Japan's position closely in pointing their fingers at China after it declared an Air Defence Identification Zone around the Diaoyu Islands (Senkaku to Japan) in November last year.
"I think it is not necessary," he told the Herald yesterday through an interpreter. "I think they are purposely complicating the current status quo." Japan itself had declared a similar in zone in 1969 and China had "tolerated" Japan's behaviour for the past 44 years.
"If there is anyone that still does not understand why China did this, I suggest they turn to the Japanese Government and ask them why they established their own Air Defence Identification Zone back in 1969."
Asked what he thought about New Zealand taking a neutral position, neither condemning nor supporting the declaration, he said: "The Chinese side believes that the New Zealand Government has taken a rational and responsible position when it comes to sensitive issues at sensitive times in the bilateral relationship and that is exactly why New Zealand-China relations have arrived at this inspiring and pleasing period."
"I believe this growth of bilateral relations has delivered tangible benefits to the two peoples."
Dr Yu said the bilateral relationship between New Zealand and China were the best ever and had become the template for countries which had different social systems and backgrounds.
Dr Yu is in New Zealand to have discussion with National, Labour and the Maori Party, in particular decisions on reform taken at the Third plenary sessions of the 18th Central Committee, held in November last year.
He said that at the heart of the reform was letting the market play a decisive role in allocation resources.
The function of the Government would be limited to macro adjustment, social security, legal institutions, the protection of the environment and public services.
China would also participate more proactively in regional and international affairs.
Dr Yu said his message to all New Zealand parties was to step up co-operation and to "provide a more favourable environment for our two-way investment".