Not a peep from local body politicians over transport ticketing, ports company or compliance fiascos.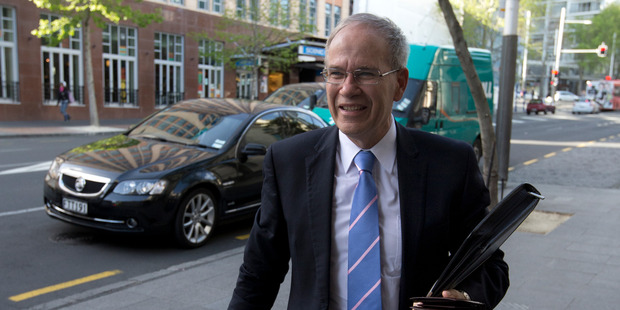 Where's a politician when you need one? Mayor Len Brown makes great play of telling Auckland councillors to leave their politics at the door of city hall - in effect telling them to turn their backs on the roles they were elected to perform.
In recent days we've seen the results of politicians heeding the mayor's advice. The bureaucrats run riot.
On the buses, Auckland Transport is busy shaking down unwary Snapper Hop cardholders for their loose change. On the waterfront, the council-owned ports company has hired a fancy lawyer to threaten its owners - you and me - with expensive court action unless it gets its way over more harbour reclamation.
Meanwhile down in deepest Papatoetoe, a compliance officer is demanding an elderly couple trim a huge council-owned hedge lining the path to the local council swimming pools.
In the days before Mayor Len declared politics dead, such travesties - if the bureaucrats had dared try them on - would have fuelled political outrage.
But from our new $100,000-a-year politicians, I strain to hear a peep.
The long-delayed rollout of the AT Hop card on to the isthmus bus routes was a perfect chance for the council's transport arm to demonstrate it had taken to heart chairman Dr Lester Levy's promise that under his reign, the customer would be king.
Instead, a growing queue of customers have been left feeling AT regards them as little more than a pain in the butt.
AT's refusal to transfer sums less than $10 from the old Snapper cards on to the new AT Hop cards is an outrage. It is AT's fault that we're enduring the present ticket swap drama, not the passengers.
Three years ago, AT chose French company Thales to provide an integrated, smart, card-based ticketing system for Auckland public transport.
However investment company Infratil, which owns NZ Bus and Snapper, the ticketing company which lost the tender, lobbied central government for a recount.
The Government then leaned on AT, which eventually buckled and agreed Snapper could introduce its cards on NZ Bus vehicles in Auckland after all, as long as they were compatible with the overall Thales system.
The cards were duly introduced, but despite much tinkering and lengthy delays, Snapper couldn't meet the required specifications, and were finally told to go.
So the present situation is not of the passengers' making, it's ATs fault and it should be bending over backwards to make the changeover painless for passengers. Yet it refuses to transfer sums less than $10 from the redundant Snapper cards to the new card unless passengers first top the balance up to $10.
To make things harder, there are only 16 places across the whole region where this transfer can occur. To rub salt in the wound, each of these transactions costs the passenger 25c apiece. This despite AT getting free use of the stored money once it's in their coffers.
AT is also refusing to transfer or refund prepaid multi-stage trips. On Wednesday the Herald reported cases of passengers unable to retrieve amounts of $50 and $60 until Herald inquiries resulted in a backdown. But future reimbursements, AT's publicist warned, would be on a case by case basis, decided "on their merit".
This is bureaucrat pick-pocketing.
The customer deposited money for future travel on the official smart card. That card is subsequently replaced by AT with its own version. The customer has no choice.
In these circumstances, AT has a duty to transfer any money owing - however small - as easily and painlessly as possible.
As for the port company, it's been puffing up its chest like some 16th century buccaneer threatening ratepayers not with a cutlass, but with an expensive battle in the law courts. An adventure for which ratepayers will end up funding both sides.
Instead of meeting ports chief executive Tony Gibson and lawyer Mai Chen, Mayor Brown should have sent a quick memo reminding Mr Gibson who owned the port, and that if he couldn't run an efficient port within its present footprint as the port's owners required, then he'd better seek new pastures.
On Monday, I was wrong to say there were only 16 top-up shops for the new AT cards across the network. There are 44 retail shops, plus ticket machines on the rail and Northern Busway network.