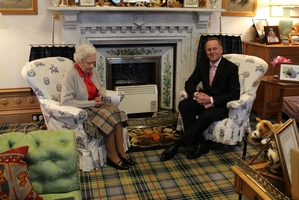 Prime Minister John Key has responded in light-hearted fashion to a ribbing given to him by British writer Jan Moir over his recent visit to Balmoral Castle.
Moir called Mr Key a "galloping colonial clot" for saying what he said about his Royal visit.
But he says he has been much maligned, and joked at his post cabinet press conference today about Moir's newspaper, the Daily Mail: "I wouldn't wrap my fish 'n chips in it," he said.
In a good humoured piece, the columnist analysed a photograph of The Queen and Mr Key in the Queen's private sitting room at Balmoral Castle, a formal audience during an otherwise informal weekend his family spent with the Royals.
Moir accused Mr Key of breaching protocol by releasing the photograph of the sitting room - which she likened to a Gretna Green B & B.
But she was also incredibly grateful to Mr Key "for this luscious glimpse of in inner royal sanctum, a peek behind the scenes so vivid, so captured in the aspic of another age, that you can practically smell the Coty face powder."
She said Mr Key himself look "totally chuffed to bits, glowing nuclear pink with pleasure, at being snapped with The Queen in her private sitting room" while The Queen may have been having second thoughts about "letting this galloping colonial clot through the front door."
Moir said Mr Key "compounded his gaffe" by revealing details about what the family had got up to over the weekend - such as Prince Philip helping to prepare a barbecue, Mr Key's son Max going grouse shooting with Prince William, and Mr Key's daughter Stephanie going hiking with the Duchess of Cambridge.
The tone of his comments - "they were extremely generous hosts and we had a fantastic weekend" - were more like a report for TripAdvisor.
New Zealand Herald journalist Claire Trevett took the photo and a New Zealand television cameraman was there too to record the start of the audience for the news media in an arrangement set in place by the Palace well before Mr Key arrived.
Mr Key was asked about the epithets at his post cabinet press conference today and said he had been "much maligned actually."
"I didn't release any picture from my time there and secondly I'm totally comfortable that any of the comments I made were in line with ... what the Palace would expect me to say."
"They didn't like my pink tie either, so I lucked out everywhere."