Marked by lies, distortions, evasions and mutual abuse, the campaign for next Saturday's Australian election is racing towards a victory for Opposition leader Tony Abbott. Australian correspondent Greg Ansley outlines 5 reasons why Abbott should defeat Labor's Kevin Rudd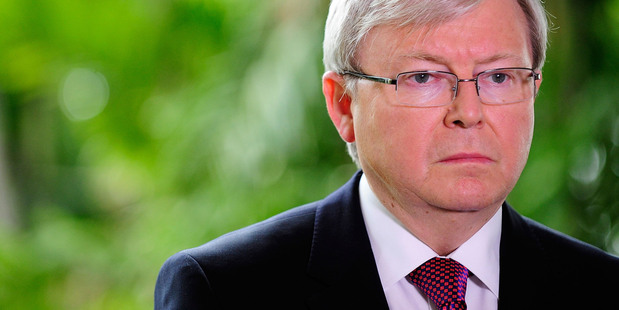 1. Labor's use-by date has expired
History is against another Labor term. Only six previous governments have topped the six years of Prime Minister Kevin Rudd and former leader Julia Gillard.
Voter fatigue has clearly set in, reflected in polls trending towards oblivion. Although not impossible, Labor faces a herculean task to force a turnaround by next Saturday.
The stench of desperation surrounds its campaign. Fairfax newspapers quoting Labor sources report a frenzied cold-call phone blitz aimed at reaching more than one million voters. The party is circling the wagons around key marginal seats in New South Wales and Queensland, hauling back raids on shaky Liberal MPs to better defend what ground it already holds.
Rudd has unleashed the attack dogs, slugging directly at Abbott personally and targeting nagging fears that a mad slasher lurks beneath the newly positive facade of the former "Dr No".
Labor believes it has caught the scent, citing research indicating its scare campaign is starting to work. Labor sources told Fairfax that voter fears of the Abbott knife had soared from minimal to number two concern in the past two weeks.
But though there has been some lift in the polls, the numbers against Labor are still crushing. Heavy losses are predicted in NSW, Victoria and Tasmania, sufficient to give Abbott an outright majority. The news from crucial marginals is all bad.
The Government has been slugged by both bad luck and worse politics.
It came to power just as the global financial crisis began to bite, then descended into a hell of its own making as the ousting of Rudd was followed by the vicious guerrilla warfare that almost cost it power and wrecked Gillard's term.
Voters could not forgive Gillard for Rudd's knifing, her subsequent policy backflips and the chaos that handed the political agenda to Abbott. So deep is the feeling, that Gillard won't be at Rudd's campaign launch.
Labor's very real successes have been buried. It managed to get Australia through the worst of the global crisis with continued economic growth and low unemployment, albeit at some cost. It passed reams of legislation, including major initiatives such as the national disability insurance scheme and education reform.
To little profit. Labor's traditional power base has gone and a shift to the centre has it fighting for the same votes as the Coalition. It has alienated voters from all sides, and they seem ready to inflict punishment at the ballot box.

2. Rudd's halo is slipping
It is a bit like the morning after the night before: as you wake, the ugly memories come flooding back and the headaches begin.
Rudd's wild welcome back party is well and truly over. Recent polling suggests he is heading towards defeat in his own Brisbane electorate and a humiliating departure from federal politics.
Rudd was returned for one reason. He looked a better bet to a desperate Government than Gillard, who was steering Labor to disaster.
Australians were furious that he had been dumped, more because their choice had been usurped by party powerbrokers than for the man himself. Polls consistently showed him to be far more popular and more likely to rescue Labor.
He did turn polls around remarkably, reaching 50-50 at one point before slipping to a level that would at least allow the Government an honourable defeat.
But as he erupted back in their lives, voters began remembering. Gillard knifed him because he had steered Labor support to near-record lows and a certain wipeout in 2010. Rudd backflipped on climate change, compromised too heavily with the Greens and allowed his anger and arrogance to appear, like some sort of political Jekyll and Hyde.
Rudd was not liked within the parliamentary party: nor is he now. One third of the Labor Cabinet resigned rather than work with him.
He became leader because he was a cleanskin, free of the tarnish that had stained the old guard during the long years of Liberal John Howard.
Increasingly the tales emerged of rudeness, bullying, and autocratic and arrogant management. The same stories are back again, heightened by his reported abuse of a makeup artist before his second debate with Abbott.
Rudd's Mr Regular Nice Guy persona is cracking. Trademark lines - "you folks", "gotta zip" - are starting to grate. His personal abuse of Abbott is offensive to many voters, who are thoroughly sick of the politics of division and vilification.
The good things he has done are being obscured. His own personality and leadership battles are being used to devastating effect by the Opposition.
"The last time Mr Rudd was Prime Minister, his own party sacked him," Abbott repeats. "If the people who've worked with Mr Rudd don't trust him, why should you?"
For the moment, Rudd holds the lead over Abbott as preferred prime minister. But it has narrowed and is fast eroding.

3. Dr No is becoming Mr Maybe for voters
Abbott has never been a popular leader. Most Australians do not like him. Even Liberal supporters would far prefer former leader Malcolm Turnbull - but most Australians will still probably vote for him, as they did for equally unpopular predecessors.
Abbott's personal stocks have been rising in the polls, pushed by his new Mr Positive persona and Rudd's slide from grace. He also works the distant, fuzzy memories of the Howard years, when the mining boom poured out a seemingly endless river of gold.
Abbott has been devastatingly effective in Opposition, a talent he is using to the full in the campaign. He has simplified policy to short, sharp sound bites and is able to promote appealing policies free of the baggage that Labor is dragging with it.
He is also able to ride on the mythology of Liberal economic infallibility, separated from reality by six years of Labor and a global financial crisis. With no demonstrated economic expertise, he is nonetheless considered by voters as better able to manage the Australian economy.
He knows which buttons to push. At one end of the scale, he equates marine conservation with banning kids from fishing with their dads, winning wide support for plans to dump Labor's huge marine reserves.
At the opposite end, he damns Labor for Orwellian oppression: "My vision for Australia is not that Big Brother Government knows best - it's that our country will best flourish when all of our citizens, individually and collectively, have the best chance to be their best selves."
This resonates with many voters. So does his message of building a stronger economy, bringing the budget back under control, stopping asylum seekers' boats and dumping the unpopular carbon and mining taxes. He can sell it because voters are willing to believe.
Abbott is not free of his own demons.
His paid parental leave scheme has backfired, attacked by economists and a host of other critics. Many voters, including women on low incomes, believe Labor's claims that it is too expensive and unfair.
People are worried that he will make huge cuts to government programmes and services. And he bears the legacy of moral conservatism that opposes sensitive issues such as abortion and gay marriage.
But on balance, and with more years of Labor the alternative, the pendulum is swinging his way.

4. Life is tough
If Rudd is scaring voters about Abbott, the Opposition leader is terrifying them on the economy. He warns Australia is becoming a wasteland of lost jobs, closed businesses, soaring debt and impoverished households, with no future but more smoking ruins if Labor is re-elected.
The corrosive effect of having derisory front page treatment of the Government every second day and flattering treatment of the Opposition every other day is very real.Foreign Minister Bob CarrVoters listen because times are hard in the suburbs and they think Abbott is more trustworthy and a better economic manager than Rudd. Australia is struggling, with worse to come. Petrol is more expensive, food and power bills are rising and the cost of childcare is hurting many households dependent on two incomes.
The big numbers send a chill up the spine: the budget is heading for a A$30 billion ($34 billion) black hole, public debt will top A$300 billion by year's end, the nation's terms of trade are slipping, and the official jobless rate will exceed 6 per cent by next year. Work is not secure.
The number of jobless is officially about 700,000 and rising. Morgan Research, using a broader measure, estimates the real figure at 1.2 million. Morgan says the impact will be felt most in the marginals Rudd needs to keep or win. Many of these seats have the highest unemployment rate.
The failure or departure of big, iconic companies feeds voters' fears. Ford's decision to quit Australia, Holden's cutbacks amid rumours of a looming shutdown, and wholesale axing of jobs by the mining companies that fed Australian prosperity have been downright depressing. Manufacturing, agriculture, retailers and service industries are barely keeping their noses above water.
Households are feeling the pain. One-third are living from paycheque to paycheque and could not find A$1000 in an emergency. Rents are crippling, tens of thousands of homeowners are struggling with the mortgage; community and welfare groups can't cope with appeals for help.
Many households go without meals, medicines and heating to make ends meet. Small wonder Morgan found day-to-day living costs were among voters' top priorities.
Rudd has tried to put the economy in a global context, promising better times ahead and warning that Abbott would cut so deeply the nation would be driven into recession. Abbott's answer is simple and effective: can you trust this bloke? On the economy at least, the majority answer is "no".

5. With Murdoch on his side, all the polls can't be wrong
So who's driving the car here? Opinion polls continue to spell doom for the Government. But polls are heavily influenced by information from the media, heavily weighted by Rupert Murdoch's mass-circulation newspapers.
The power of Murdoch's News Ltd has almost certainly diminished with declining newspaper sales, powerful rivalry from TV news, far greater competition and alternative news sources on the internet, and the pervasive spread of social media.
But it still controls almost 60 per cent of all daily newspaper sales and about 65 per cent of major metropolitan and national circulations.
The Telegraph and Herald Sun hold huge audiences in Sydney and Melbourne, while the Advertiser and Courier-Mail have monopolies in Adelaide and Brisbane.
Together with the national Australian, they have all turned their heavy artillery - blatantly and unashamedly - on Rudd.
He is pilloried as incompetent and untrustworthy, and made the butt of cheap shots at every opportunity. Tabloid campaign coverage is trivialised and there are rarely any stories favouring Rudd.
Abbott is always portrayed as a shining knight.
Their coverage has itself become the big story of the day.
Rudd fell flat when he tried to knuckle Murdoch with claims of a deal with Abbott to protect his Sky pay-TV network, and the coverage has convinced senior Labor figures that it is driving Labor down in the polls.
"The corrosive effect of having derisory front page treatment of the Government every second day and flattering treatment of the Opposition every other day is very real," Foreign Minister Bob Carr said.
There is no real measure of Murdoch's influence, but the polls have certainly been grim for Rudd. His popularity has fallen during the campaign, Abbott's stocks have risen, and the Opposition has opened a strong lead.
Newspoll, published in The Australian and the most gloomy for Labor, this week noted that while the Government had managed to marginally pull itself back into the fight with a small lift in support, the Coalition still held a commanding 53 per cent to 47 per cent lead in the two-party vote that decides Australian elections.
The other major polls have found a tighter contest, but still point to an Abbott victory.
Labor's problem is that, regardless of Murdoch, all polling since the start of the year has shown consistent movements. It tracked Gillard's train wreck, Rudd's revival and, uniformly, his downward slide during the campaign.