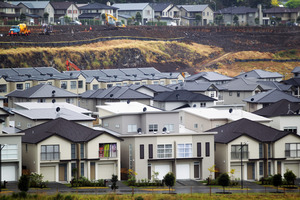 A law change to allow the Government to override councils in order to free up land for housing developments was opposed by a slim majority of New Zealanders surveyed in a Herald-DigiPoll survey.
Asked which statement best fitted their view on giving central Government power to override councils' planning and consent processes, nearly half of respondents said they did not support it because it was undemocratic to ignore councils.
Just over 43 per cent backed the policy because they felt councils had contributed to the housing supply problem.
The new government powers were proposed as part of legislation being passed under urgency. The bill was designed to create more affordable housing by fast-tracking the supply of land designated for housing developments.
If a housing accord between governments and a council could not be reached, a minister could intervene by establishing special housing areas and issuing consents for developers.
Housing Minister Nick Smith said he was pleasantly surprised at the poll result. "It's a pretty even [result] when the question was a bit loaded - there's nothing undemocratic about the Government using powers to free up additional land for housing."
He stressed that the direct intervention powers would only be used as a last resort.
Auckland Mayor Len Brown has expressed concern that parts of the bill were inconsistent with the accord it signed with Government this year to fast-track 39,000 new homes.
Dr Smith said there would be some amendments to the bill in response to concerns by Auckland Council, but he said the Government was "sticking to its guns" on intervention powers.
The Law Society criticised the absence of a requirement for a minister to consult the community, councils and landowners before intervening. Dr Smith said: "One of the problems in the whole area of housing is that everybody wants to be consulted with. And everybody wants appeal rights. And that has drawn processes out to such a long, cumbersome process that we have got a real challenge around housing affordability."
Labour Party housing spokesman Phil Twyford said increasing consents and freeing up land did not automatically lead to cheaper homes because most developers wanted to build large, expensive homes to guarantee a good return.
Green Party housing spokeswoman Holly Walker said increasing land supply on its own would not be enough to increase affordable housing, and greater attention needed to be paid to development contributions and the cost of building materials.