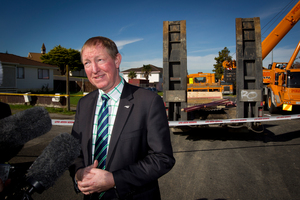 Opponents of a bus tunnel through Fiordland are understandably gleeful over Conservation Minister Nick Smith's rejection of the $175 million proposal.
They are both relieved and surprised over a decision that one conservationist described as "totally unexpected". They had had good cause for trepidation. While Dr Smith is recognised as one of National's greenest MPs, he is part of a Government that lays considerable store in the development of tourism, not least because of its potential to create jobs. This, then, was in many ways an out-of-character decision. That, however, is not to say it was wrong.
The Government's tourism ambitions are laudable, but a high bar must be set for developments that disturb our world-renowned national parks. Dr Smith decided, correctly, that the 11km Milford tunnel did not meet this threshold for several reasons. One was the need to deposit half a million tonnes of soil in the Hollyford Valley, another was that one tunnel entrance was too close to the Routeburn Track. Dr Smith worried also about the safety of the tunnel and its economic viability.
By such yardsticks, the other proposal to shave hours off the trip between Queenstown and Milford Sound should face an uphill struggle. The Fiordland Experience includes a 41km monorail trip on conservation land including the Te Wahipounamu World Heritage Area. That's the last leg of a journey taking in a a catamaran trip on Lake Wakatipu and 45km in an all-terrain vehicle. If anything, this proposal angers conservationists more than the tunnel project. The latter, in its final form, would, arguably, have been less intrusive and certainly more direct.
Paradoxically, however, the Fiordland Experience appears to stand a better chance of getting Dr Smith's nod. Very little of its route is within the Mt Aspiring and Fiordland national parks, both of which would have been affected by the tunnel. Therefore, it will be assessed under the Conservation Act, not the tougher provisions of the National Park Act which doomed the tunnel. This, undoubtedly, is a plus for the promoters of the Fiordland Experience, who predict their initiative will deliver 20,000 more tourists to the region each year.
This fits neatly with the Tourism Industry Association's call for the industry's offerings to be adapted to what visitors want. A halving of the time taken to travel from Queenstown to Milford Sound would clearly appeal to those who want to visit these two popular destinations in the least-possible time. At the same time, however, it may deter high-end tourists with time on their hands who want to enjoy an undisturbed wilderness.
Their view is underpinned by Unesco, which has warned the Department of Conservation that the monorail was "likely to be considered incompatible" with the site's World Heritage status. Dr Smith says he considers that suggestion "overcooked" because many of the 200 World Heritage spots around the world had visitor facilities similar to those in the Fiordland Experience proposal.
But if so, that merely enhances this country's ability to promote Fiordland as a genuine area of raw grandeur in a world where this is becoming increasingly rare. Equally, it does not negate New Zealand's duty to preserve its World Heritage areas. That should be the major factor when Dr Smith comes to consider the monorail proposal.
Even though it will be considered under less onerous guidelines, the principle of protecting this country's outstanding pristine landscapes remains the same. If the tunnel could not be approved on that basis, it's difficult to see how what appears a more intrusive development can. Dr Smith has made one brave decision.
Now, he needs to make another.