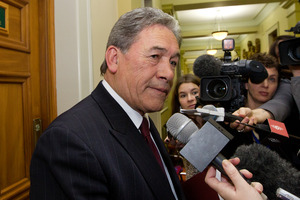 The fate of a controversial bill before Parliament overturning a ban on bosses hiring temporary staff during a strike now rests in the hands of New Zealand First.
United Future leader Peter Dunne and the Maori Party yesterday came out in opposition to the bill, joining opposition by Labour, the Greens and Mana.
National and Act support the bill, the Employment Relations (Continuity of Labour) Amendment Bill in the name of National MP Jami-Lee Ross, which was drawn from the ballot of private members' bills last week but is one vote short of a majority to even pass its first reading.
Leader Winston Peters said NZ First would discuss the bill at its caucus next Tuesday. He said the party sometimes supported bills to get to select committees so the public could have their say.
When the issue was last debated by Parliament, in 2000, Mr Peters and Mr Dunne both opposed the Labour-led Government's move to prevent employers taking on temporary staff during strikes.
Mr Dunne said yesterday that he understood what Mr Ross was trying to do, but it would be "very inflammatory"and he was surprised National had allowed it to be entered as a member's bill.
Maori Party co-leader Tariana Turia said the party opposed Mr Ross' bill and the Government's Employment Relations Amendment Bill.