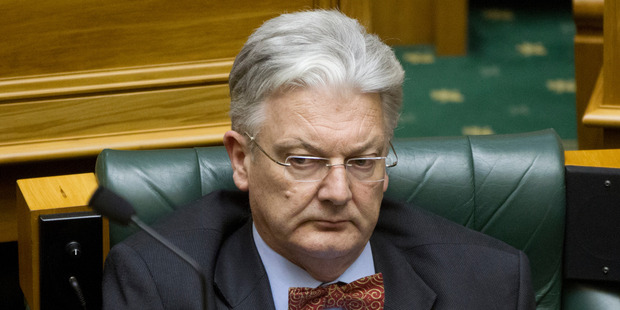 That isn't the sun rising bright and free on the horizon. It's charter schools. The fruit of coalition negotiations between the National Party and Act may have surprised many - including, some reckon, Act leader John Banks - but as of term one next year they will be a reality.
This week, Parliament approved legislation to enable privately sponsored, state-funded schools, unshackled by requirements to employ registered teachers, follow the national curriculum, or comply by the Official Information Act. Partnership schools: as innovative and transparent as the new Anchor milk bottle. Already, 35 proposals have been filed, including one from Ayatollah Tamaki's Destiny Church.
Another, previously unreported proposal for a charter school is understood to have been drafted in the hope of receiving the approval of Education Minister Hekia Parata. A copy of the document was found taped to your correspondent's recycling bin yesterday, and describes plans for the creation of a "Finishing School for New Zealand Political Aspirants - the Cabbage Boat Academy".
The coffee-stained dossier is incomplete - missing, for example, is the schedule of concessions SkyCity is seeking in return for its sponsorship - but a good chunk of the proposed curriculum is intact. At first glance it appears commendably up-to-the-minute.
English: At the heart of the curriculum is an embrace of language, and its power to move the human spirit and whatnot. Core texts traverse New Zealand literature from the beloved karakia The Devil-Beast that Terrorised Muldoon to the new Feelers album. Students will study contemporary styles of rhetoric, especially "I know you are but what am I?" Creative writing classes will include "200 ways to call for an inquiry" and the popular exercise "How to pin the blame on some ministry oik in 100 words or fewer".
In comprehension, pupils will learn how to be completely vindicated by reports, and how not to read them at all. They'll learn to salute the resilience of the people of Christchurch. And they'll gain rare access to Mr Joyce's patented Saboteur Metaphor Machine. Also, instruction in the function of the cliche, to be conducted at the end of the day.
Mathematics: Statistics, including modules such as "100 per cent - lighten up, it's all relative!" and "Measure this, sweetie!" In calculus, how to drink a cup of tea. Mr Dunne will give tuition in counting to 500.
Science: The Hamilton City Council has generously offered to conduct our public health programme. And we're delighted to have secured a high-profile trio to teach human evolution: Mr Banks, Mr Craig, and a serpent. See also confidential appendix: Forgetty serum.
History: We can only win today by understanding the past. By "the past", we mean the opposing party's last go at government. And when we say "understand", we mean point at and blame.
Accounting: No discipline offers greater scope for young imaginations. Modules include "Bedazzling a surplus", "New York bank account" and binomial donation distribution with Mr Banks (see also: Science).
Business studies: Students will be shown how successful businesses, including "New Zealand", operate in the domestic and global marketplace. How to seamlessly merge your contacts list with the political appointments process. How to confidentially use the word "leveraging" in the workplace and at home. Constitutional law and citizenship, a significant subset of business studies, will be touched on during the coach trip to Hobbiton. See also: Meat studies.
Geography: Students will be taught the difference between a country and a continent, the states with which New Zealand shares free trade agreements, and which nationalities it is acceptable and hilarious to make fun of.
Economics: See accounting.
Languages: All pupils are required to study obfuscation at Ms Parata's Consolidated Community Cluster for the Intra-Consultational Consolidatory Discourse Consulate.
Te reo: Headmaster Aaron Gilmore will personally oversee the teaching of important vocabulary such as "kaihari waina", "whakakake" and "utu".
New technology: Tomorrow's leaders must be equipped for the digital age, the big-data future. Pupils will be introduced to the core principles of info-tech leadership. We will provide all the necessary tools: Computer, mittens, inflatable hammer and psychoactive drugs. Pakuranga Mayor Maurice Williamson to mentor.
Media studies: Pupils will be thoroughly schooled in the crucial three-Ds of constructive engagement with the fourth estate. Dissemble. Dick about a bit. And Don't answer the bloody phone. Extensive applied tutoring includes how to repeat the same sentence many hundreds of times without wanting to curl up and die and how to identify a "political blogger" and fill it with wine and/or money.
Physical education: Larks, hijinks and good, sweaty old-fashioned exercise, including planking and the Korean horse-riding dance. Mr Peters will lead pupils in standing up and walking away. Plus the famous annual six o'clock dash, in which students are pursued around the school grounds by local meth addicts wearing Patrick Gower masks.
Dance and drama: Most evenings, Mr Carter will be found naked in the courtyard, howling the words, "Lockwood", "Winston", "Trevor" and "John you bastard" in the direction of the moon. Do not approach.