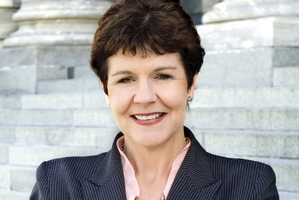 Judith Collins is again under fire over the appointment of Jackie Blue as Equal Employment Opportunities Commissioner this time over her decision conceal the identity of a person who interviewed Dr Blue for the job.
Her evasiveness in response to questions from Labour on the issue yesterday drew a response from Parliament's Speaker David Carter who penalised her for being unhelpful to Parliament.
Justice Minister Ms Collins was criticised this week by Labour Deputy Leader Grant Robertson for putting forward fellow National MP Dr Blue for the job after public applications for the job closed.
Official documents also show Ms Collins forwarded Dr Blue's application to the ministry before she'd received advice that Dr Blue was an appropriate candidate given her status as an MP.
Today Mr Robertson highlighted the fact Ms Collins had references to a member of the three person interview panel selected to recommend a candidate removed from official documents.
"This is an appointment to a public organisation that acts as a watchdog on human rights and the activities of government," Mr Robertson said.
"This alone should mean that the public have a right to know who is on the panel - even more so when that panel recommends a National Government MP for the role."
The documents reveal that after Justice Secretary Andrew Bridgeman and Secretary of Defence Helene Quilter, the third person on the panel was the chief executive of a state owned enterprise.
However when asked yesterday why she withheld the third name, Ms Collins said it was because that person as a representative of civil society, and it was right to protect their identity.
When Mr Robertson pointed out the documents showed that person was an SOE chief executive, Ms Collins said it was "pretty jolly obvious.. there was going to be that particular person, and then that was changed".
However even Mr Carter found at least one of Ms Collins' answers unsatisfactory and "not helpful to the House". Mr Carter penalised her by giving Mr Robertson a further three questions to probe her when she claimed there was effectively no deadline for applications for the EEO job.
Mr Robertson later questioned what possible reason Ms Collins had to withhold the identity of the third person.
"Judith Collins needs to front up... the lack of transparency in this process is anti-democratic, and New Zealanders deserve far better," he said.