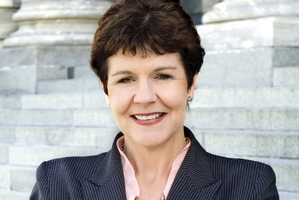 The Government is again accused of interfering to appoint a "mate" to a top public sector job with Labour claiming Judith Collins short-circuited due process to select Jackie Blue as Equal Employment Opportunities Commissioner.
Responding to Labour's written questions about National MP Ms Blue's appointment last month, the Justice Minister initially said she didn't discuss the job with Dr Blue until after October 13. She later changed her answer, saying Dr Blue approached her about the job in September and gave her a CV.
"I agreed to find out whether it was appropriate for a sitting MP to put her name forward and, if I was satisfied, then the CV would be submitted to the ministry," Ms Collins said.
Documents obtained by the Herald include a list of candidates submitted by the ministry on November 1 for Ms Collins' consideration which does not include Dr Blue's name. Ten days later Dr Blue submitted an application and her name appears on a second list of candidates to be considered by Ms Collins in a December 19 paper.
Another document shows Ms Collins did not receive advice from Justice Secretary Andrew Bridgman about whether Dr Blue's application was appropriate until February 5.
Labour's deputy leader Grant Robertson said it appeared the appointment process was changed and stopped to allow Dr Blue to apply.
"This is further evidence of the National Party putting process to one side so they can get jobs for their mates," he said.
"We've seen it with Ian Fletcher, we've seen it in other cases ... this is a pattern of behaviour."
A spokeswoman for Ms Collins said that while the Justice Ministry handled the process, it was ultimately up to Ms Collins who she appointed.
She confirmed that Ms Collins had forwarded Dr Blue's application to the ministry some time between early November and December 19.
"Although she was self-satisfied there were no issues with Jackie Blue applying, she elected to double check even though she was under no obligation to do so."
The spokeswoman pointed out that Ms Collins didn't sign off on the list of applicants until February, by which time she'd received advice from Mr Bridgman.