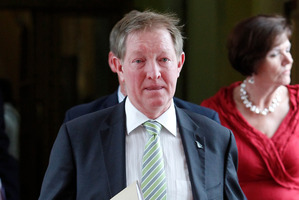 Housing Minister Nick Smith has finally cleared up a mystery from last week's Budget - disclosing that only new tenants moving into community housing, and not existing tenants, will get state-subsidised rents.
That explains how he was able to extend income-related rental subsidies to community housing tenants for an average of only $35 a week per house by 2016-17, only a sixth of the $215 average for Housing NZ houses.
It means low-income tenants moving into community housing after the policy takes effect will pay rents of only 25 per cent of their incomes, typically around $100 a week for a beneficiary family, while neighbours who move in before the rules change will keep paying existing rents.
Tenants in two new VisionWest units in Henderson, which Dr Smith opened yesterday, will pay $275 a week for a two-bedroom unit and $398 for one with four bedrooms.
VisionWest chief executive Lisa Woolley, who also co-chairs the sector group Community Housing Aotearoa, said the different treatment of new and existing tenants was "an area for discussion".
A Social Housing Reform Bill introduced in Parliament after the Budget does not specify a date when the new rules will come into force.
Dr Smith said the same subsidy formula would apply to state and community housing, fixing subsidised rents at 25 per cent of tenants' incomes and paying providers the difference between that and market rents.
The subsidy for 59,000 qualifying Housing NZ tenants will cost $662.2 million in the coming year.
The subsidy to community providers with 5000 houses is budgeted to grow slowly, from $2.9 million in the coming year to $9.1 million by 2016-17, but Dr Smith said his "long-term vision" was still to build up the community sector to a fifth of all subsidised housing.
The Ministry of Social Development (MSD) will take over assessing people's needs for both sectors next April.
"MSD says, 'This person is eligible for income-related rent, we are now going to ask each of the social housing providers in West Auckland to see what houses they have available,"' Dr Smith said.
"VisionWest or Habitat or the Salvation Army or whoever else says, 'These are the houses we've got,' and MSD would then make a choice as to who best meets the tenant's needs."
He said providers could still choose who they accepted as tenants, but they would only get the rental subsidy if they accepted people who had been assessed as needing it.
Mrs Woolley said VisionWest's policy was to provide long-term tenancies allowing families to settle in the local community and keep their children in local schools, accepting that they might lose the rental subsidy if they got well-paid jobs.
"Our goal is to help people move towards that independence."


Housing mystery
Q. How can you extend rental subsidies to community housing at only a sixth of the average cost of a state house subsidy?
A. Only give the subsidy to new tenants.