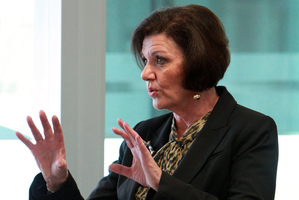 Labour questioned in Parliament yesterday the potential promotion of Deputy Police Commissioner Mike Bush, in light of comments he made at the funeral of former detective inspector Bruce Hutton.
It is believed Mr Bush will be a strong contender for the role of Police Commissioner, and Police Minister Anne Tolley would not be drawn on whether she would support his bid.
During question time, Labour's Trevor Mallard asked if Mrs Tolley supported comments made by Mr Bush in a eulogy to Mr Hutton.
Mr Bush told mourners Mr Hutton had "integrity beyond reproach".
The Independent Police Conduct Authority received two complaints about the second-highest ranked officer's comments at the funeral, but decided not to take any formal action.
Mr Hutton was found by a Royal Commission to have planted evidence used to wrongly convict Arthur Allan Thomas of the murders of Harvey and Jeannette Crewe.
Mrs Tolley said in Parliament: "I understand that [Mr Bush's] comments were read from Mr Hutton's service record and that was an appropriate action to take at the man's funeral in front of the man's family and friends.
"They were on the man's record prior to, my understanding it, prior to the Arthur Allan Thomas case."
- APNZ