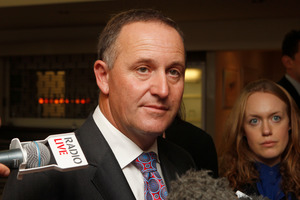 The Prime Minister was back on the defensive yesterday over his role in the appointment of old family friend Ian Fletcher as boss of the GCSB spy agency after he revealed that they had met after the selection process had got under way.
After initially saying he only "vaguely" knew Mr Fletcher before his September appointment, John Key subsequently acknowledged they had met three times since 2008.
Yesterday, he revealed one of those occasions was a breakfast meeting on June 17, 2011, in Auckland. That was two months after the process began to find a new director of the Government Communications Security Bureau to replace Sir Jerry Mateparae.
By the time of Mr Key's meeting with Mr Fletcher, a potential short list of four candidates had been identified and a selection panel to conduct interviews appointed.
However, yesterday, the PM said he did not discuss the GCSB job with Mr Fletcher.
They discussed a range of issues "but primarily economic development in Australia".
At the time, Mr Fletcher was head of Queensland's Department of Employment, Economic Development and Innovation.
State Services Commissioner Iain Rennie, who ran the GCSB appointment process, has said he and Mr Key discussed Mr Fletcher as a potential candidate for top-level public service jobs as far back as 2009.
Yesterday, a spokesman for Mr Key said the Prime Minister became aware of Mr Fletcher's potential to fill such a role after contact between the two men "resumed by chance in the mid-2000s". However, the spokesman said the prospect of Mr Fletcher's taking up such a role was not discussed during their June breakfast or at a previous breakfast meeting they had in March 2010.
Labour Party deputy leader Grant Robertson said he was unconvinced Mr Fletcher's prospects in the New Zealand public sector were not discussed during those meetings.
"Given what we know about the discussions John Key had with both Iain Rennie and with Ian Fletcher, it is quite clear he had him in mind for an appointment and his story has changed so many times I am struggling to believe much of what John Key has got to say about this incident."
Mr Key has said he first raised the GCSB job with Mr Fletcher in a phone call some time after July 8, about three weeks after their breakfast meeting. That phone call came after he and Mr Rennie had scrapped the potential shortlist and agreed to look for other candidates.
During the call, Mr Key told Mr Fletcher he should speak to the then head of the Department of the Prime Minister and Cabinet, Sir Maarten Wevers, to find out more.