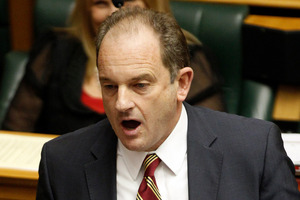 On the first night of Labour's conference, leader David Shearer told the delegates that in all the schools he had visited as an MP, he had not come across one 10-year-old who said it was their life's dream to be the Leader of the Opposition.
It didn't take long for him to find out that although a 10-year-old might prefer to be a firefighter or trapeze artist, there was one 49-year-old sitting in the audience who very much wanted to be Leader of the Opposition.
The very next day that person - David Cunliffe - was quick to remind Shearer of that dream when he first of all successfully pushed for a rule that would allow 40 per cent of caucus to overthrow a sitting leader and then refused to rule out challenging David Shearer.
Cunliffe was entitled to be smug. The changes to the leadership rules giving members and affiliates a combined 60 per cent of the vote against the caucus' 40 per cent were perceived as being in his favour. And the membership showed it wanted nothing more than to use it.
Passing that amendment to allow just 40 per cent of caucus to force a leadership contest was a very clear message from the members to caucus with one finger raised.
The uprising had begun and Cunliffe's team had clearly anticipated it. They played it for all their worth, kowtowing to the membership by refusing to pledge support for Shearer because the new, democratic era that had just dawned in the party meant they could not commit until the members' own wishes were clear.
Shearer's demotion of Cunliffe was supposed to cauterise the issue. But for some it has only intensified the belief that Shearer will not be the mandated leader until the members have been given the chance to bestow that mandate themselves.
Following his demotion, Cunliffe fell silent but he did so in a way to ensure he came across as the wounded martyr. He appeared on television and posted on Facebook, saying he would dearly love to thank all his supporters but, alas, he was forbidden from doing so.
The Facebook posting ensured those supporters had a forum on which to work themselves into a froth of denied ambition on his behalf. There was also a spate of letters to the editor questioning whether Shearer had the mandate.
Cunliffe supporters are now questioning what he did wrong, given there was no overt leadership challenge. Nobody who was actually at that conference could honestly say Cunliffe was innocent of undermining Shearer.
He acted shamelessly - apparently completely confident it would all play out in his favour. He took media opportunities which should more appropriately have gone to his leader. There was a profile in the Listener - and while the words might not have pleased him the photos showed him looking every inch the leader ascendant, in the same way North and South featured Prime Minister John Key in presidential pose just before he took over from Don Brash. Without telling the leaders' office, Cunliffe also got himself on TV3's current affairs show The Nation on the Saturday morning of the conference - a slot habitually reserved for a party leader - where he refused to rule out a challenge. At the conference, for three days running he repeatedly refused to rule out a challenge. Sources have also since claimed that on the Friday Cunliffe and his ally, Rajen Prasad, unsuccessfully tried to stack the Ethnic Sector council with Cunliffe supporters, including trying to install Cunliffe's electorate committee member Susan Zhu as chairwoman. The ethnic sector group has more than 1000 members in it and is a potentially rich voting pool for a hopeful leadership contender. The rumour was that the plan was for the ethnic sector group to eventually publicly endorse Cunliffe come the time of a leadership contest.
Such was Cunliffe's subtlety he may as well have hired a plane to fly around the Ellerslie Events Centre towing a sign that said "Cunliffe for Leader".
As for Shearer, what is now forgotten in the smoke of Cunliffe's tyres is that Shearer went into that conference on the back foot. The forces of instability were conspiring against him from too wide a range of sources to believe it was a conspiracy rather than a widely held belief that Shearer was not up to the job. There was a confluence of bloggers and media commentators - the Standard, Brian Edwards, the Herald's Tapu Misa, and TV3's Duncan Garner - all saying he should go.
Yet he managed to stare down what many believed would be a fait accompli in the challenge from Mr Cunliffe and while the conference was a disaster on one hand, that possibly only strengthened his leadership in the medium term. His supporters will also be hoping that, despite the fury of Cunliffe's closest fans, the conference showed a side of Cunliffe that the wider membership had not seen before, the side that explained why his caucus colleagues have long found it hard to trust him.
Despite everything Tuesday's vote and even next February's confidence vote will make little difference whether David Shearer is Labour's leader in 2013.
The wishes of the membership will also make little difference.
In reality, whether David Shearer, David Cunliffe, or some other figure altogether is the leader in 2014 will be decided by a far greater force than either caucus, the members or the unions: it will be decided by the polls.