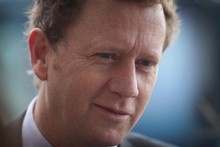 Greens co-leader Russel Norman moved swiftly to try and minimise the political damage caused by revelations that a party member - the partner of his executive assistant, no less - was a prime mover behind the attacks on National Party billboards.
His public admissions were contrite, complete and gracious, his disappointment evidently sincere. He would have been hoping that the attacks would not damage the Greens' historically high poll ratings, which have resulted from a long-term and very deliberate attempt to pitch the party as broad-based and moderate.
It's a measure of how far to the centre the political left has moved that Norman and his colleagues could not find a kind word to say about the group's actions. But it must have brought a rueful smile to the faces of the Greens' erstwhile firebrands Nandor Tanczos and Sue Bradford.
The addition to the hoardings of such pointed phrases as "The Rich Deserve More"' and "Drill it! Mine It! Sell it!", was in a noble tradition of witty political dissent. "The Prime Minister believes in transparency," a group spokesman said. "He says he doesn't lie. We're happy to help."
To characterise the attacks as simple vandalism rather stretches the meaning of that word. Felling hoardings or painting donkey's ears, moustaches or profanities on them is vandalism; the stickers were plainly intended to be non-destructive, though in the event removing them left unsightly scars.
What's more, they actually had something to say, with a basis in political reality. In the midst of an election campaign - indeed in an era - when pointed wit is a scarce commodity in political discourse, it is humourless to see what the activists did as entirely without merit.