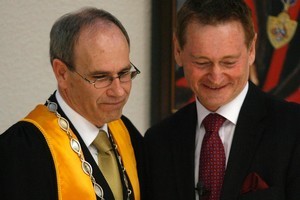 The former boss of Manukau Council is in line for a top job at the new Supercity, just one month after receiving a $171,700 redundancy payout.
Leigh Auton is understood to be on a shortlist to be appointed as a director of the Property Council Controlled Organisation. The appointment pays $35,000 and will be debated and voted on during a confidential part of the CCO appointments committee on Thursday.
Auckland Mayor Len Brown said it would be inappropriate to comment until after it had been considered by the appropriate committee.
But the secretive appointment process has been attacked as going against Brown's promises of a transparent council.
Jami-Lee Ross said: "Len Brown has spoken at length about wanting the new council to be open to public scrutiny. If it's good enough for us to expect the CCO boards to hold their meetings in public then it should be good enough for us to do the same. What's good for the goose should be good for the gander."
Auton, who has set up own consultancy business, was unavailable for comment.
The week before Brown was elected mayor of the new council he was abused by protesters for naming a south Auckland park Leigh Auton Reserve.
Seven CCOs have been set up to deliver services and manage some of the council's assets.
Ratepayers paid out around $20 million in redundancy packages to 650 council staff as the new council was being set up, the Herald on Sunday revealed this month.
Another $1.6m will be spent recruiting workers for the new Supercity council, including some of those who were made redundant.