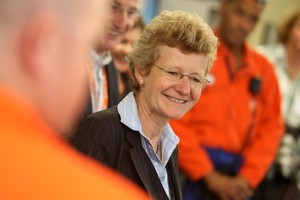 SUNDAY
But wait there's more ... Andrew Little proves quite the joker chairing proceedings at the Labour Party's annual conference in Auckland. The party's president urges delegates to sign up to the Century Fund, one of Labour's money-raising ventures. The lengthy sales pitch gets wittier as it continues with Little coming across as a kind of laid-back version of infomercial queen Suzanne Paul - if that's possible. Later, when a delegate on the conference floor asks for the lighting in the Aotea Centre's auditorium to be turned up, Little asks delegates to raise their hands. "Many hands make light work," he quips. Later still, during a fairly chaotic vote on a Young Labour remit seeking to lower the voting age to 16, Little suggests "it might be better to raise it at the rate we're going". When the remit is lost on a card vote - where union muscle holds greater sway - Little, also national secretary of the Engineering, Printing and Manufacturing Union, observes that "life is full of disappointments".
Political correctness is still alive and well in the Labour Party. In a remit relating to Labour's prisons policy, the word "inmates" was changed to the more anonymous "people".
There's one plus for Chris Carter no longer being a Labour Party member. The now-independent MP is not obliged to donate a portion of his salary to the money-raising Century Fund. The party's 2009 accounts show Labour's 43 MPs - 42 without Carter - each contributed more than $5000 to the party.
MONDAY
Conservation Minister Kate Wilkinson shows she's not queasy at the prospect of a bit of blood. Announcing a joint Green Party-National Party measure to trial new possum traps, Wilkinson explained with some relish how the traps work - by way of a bolt snapping out and conking the possum on the head. She smote the side of her own head to demonstrate and then said one trap could kill up to 12 possums in a row. "The interesting thing is that the possums don't mind climbing over their dead mates to get up there and have a go," she observes. Hmmm. A bit like another species we could mention which also starts with "p".
WEDNESDAY
Labour's Darien Fenton blogs, somewhat graciously, about National's Melissa Lee after the two find themselves together in Canada with the Commonwealth Parliamentary Association. "We'll be a team while we're here," she writes. "I can cope because, after all, it's only for a few days! (Just kidding. Melissa's okay)." A few days later, Lee rewards Fenton by posting on her Facebook page a photo of a name label saying "Mr Darien Fenton" as apparent proof the Canadians thought Fenton was a man. Fenton proves she can take it, maintaining Lee was still "pretty okay when we're not doing politics. However, I see she was amused enough to put my CPA 'Mr' Darien Fenton sign onto her Facebook. Yes, it was funny and I made a joke of it as well."