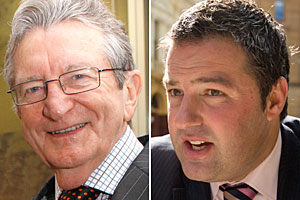 An ongoing media feud has escalated into a very public - and rather entertaining - online slanging match.
In one corner, we have media veteran Brian Edwards, and in the other, 3 News political editor Duncan Garner.
Mr Edwards has alleged Mr Garner has a personal vendetta against Labour MP Chris Carter.
In April, in a blog post titled 'Duncan Garner on Chris Carter - Journalism or Personal Campaign?', Mr Edwards alleged Mr Garner was waging a homophobic campaign to discredit the MP and invited Mr Garner to respond. He didn't.
On Friday, Mr Edwards returned to the topic, blogging about an incident that occurred between Mr Garner and Labour MP Chris Carter at an airport some time between nine and 11 months ago.
Mr Carter gave his version of events to the Herald on Sunday two-and-a-half weeks ago.
Allegedly, either in the Koru Lounge or as they were boarding a flight, a foul-mouthed exchange took place between the pair, which culminated in Mr Garner saying to Mr Carter: "I'm going to f***ing get you. If it takes me to Christmas I am going to destroy you."
This time, Mr Garner couldn't refrain from giving his version of events.
Commenting on the blog on Saturday, he told Mr Edwards his version of events was "very, very wrong".
"Carter behaved disgracefully in the Koru Club that evening and provoked the incident," wrote Mr Garner. "Your version is simply wrong on so many fronts - you expose yourself once again as a sham and a Labour Party hack."
Mr Garner invited Labour chief whip Darren Hughes, who was travelling with Mr Carter, to pipe in with his version of events. Mr Hughes - perhaps wisely - has so far stayed silent, as has distinguished public servant Dame Margaret Bazley who was also allegedly within earshot of the incident.
Mr Edwards, however, then came back in with a lengthy response starting with "Duncan, I'm not going to respond to your infantile insults".
Cue Mr Garner, who jumped back in on Sunday morning to swear he never uttered the "I'm going to f***ing get you" phrase.
Soon after, The Nation producer Richard Harman showed up to vouch for Mr Garner's journalistic excellence, and suggest the only vendetta around was one Mr Edwards had against Mr Garner.
Mr Edwards said this was "absolute rubbish".
Then in jumped media commentator Russell Brown, who asked Mr Garner to clarify what exactly was said on that fateful day.
By now Sunday afternoon, Mr Garner came back to say "I might leave it there and get on with the day".
TV3 Wellington bureau chief Gordon McBride then popped in to say he didn't reckon his colleague is a homophobe.
Alasdair Thompson, CEO of the Employers and Manufacturers Association (EMA), then put his two cents in with: "Duncan Garner did not spend huge amounts of taxpayers money. That was Chris Carter. All media including TV3 have been rightly reporting that."
A few hours later, Mr Garner jumped back in to say: "Clearly there are people here determined to tarnish my reputation. As the country's leading political commentator, I'm not going to let that happen. Honest journalism must prevail in this country."
Or does he? Mr Garner returned to say he didn't write the last post at all. Would the real Mr Garner please stand up?
Things take a turn for the bizarre when David Fane (or perhaps someone pretending to be him) shows up.
"I have total respect for Duncan. He's a cool dude and a total pro. Max respect," writes Mr Fane, just suspended from his radio job for an ill-advised comedic tirade against Jews and AIDs sufferers.
At 1.46pm today, Brian Edwards closed the debate.

* They said it: Heavyweights join the online debate
A number of prominent commentators have posted their thoughts on Brian Edwards' blog, including Duncan Garner himself. Below are some of the most interesting comments:
Brian Edwards
"His (Garner's) whole career is founded on expecting others to answer his questions and lambasting them when they don't."
(To Garner) "What the post was about is your allegedly having said to Carter, 'I am going to f***ing get you, Carter. If it takes me to Christmas I am going to f***ing destroy you.' If I were in your shoes, I would consider this the more damaging allegation made about you.
(To Garner) "You might like to explain to me the relevance of the shot in Friday's 3 News bulletin on Carter's apology of a half naked man going into a sauna."
Duncan Garner
"You have relied on the word of Chris Carter and even Phil Goff can't rely on that."
"I 'swear' I did not say to Chris; "I am going to f***ing get you, if it takes me to Christmas I am going to destroy you."
"Once again, in your attempt to defend your Labour mate - you will drag this on and perhaps back into the public arena. Just what Labour needs. What a media strategist you are!"
Russell Brown - Public Address blogger
(In response to Garner's "I swear" comment) "That's a very precise denial Duncan; one that would have any interviewer pricking up his his ears."
Gordon McBride - TV3's Wellington Bureau chief
I work with Duncan. I can tell you he isn't a homophobe (the sauna shot was to illustrate Carter's use of his credit card to pay for a sauna in Berlin). He's certainly a robust character though and I can believe he'd give as good as got in any exchange.
Richard Harman - producer of TV3's The Nation
"I would not expect Duncan to get any credit on this blog which seems to have a vendetta against him - and any programme he is associated with."
Alasdair Thompson - CEO, Employers & Manufacturers Association
"Duncan Garner did not spend huge amounts of taxpayers money. That was Chris Carter. All media including TV3 have been rightly reporting that. I wonder why Edwards seems so intent to 'get' Garner?"
- NZ Herald staff