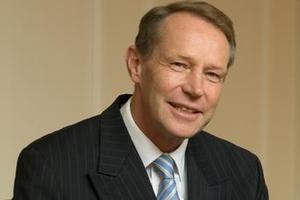 National's Hunua MP Paul Hutchison has been dobbed in for reading while driving on the Auckland motorway and his attitude is it's a "fair cop".
Janice Barr from Ohaupo says she drew parallel with Dr Hutchison on the morning of September 11 and was surprised to see he had a full sheet of paper spread across the steering wheel "reading and what looked to me like practising a speech".
The four-wheel-drive vehicle had his name and party colours on it.
Dr Hutchison said it was him yesterday and thanked the reader for reporting him.
"Anyone who dobs someone in for driving unwisely is doing their public duty and that's fair enough. Caught red-handed - or blue-handed," he said.
He had been "frantically" going from one meeting to another on the Auckland governance issue.
"If I was driving unwisely I shouldn't have been and I will endeavour to correct my ways," he said.
Driving while reading is not a specific offence but Superintendent John Kelly, road policing manager for the Waitemata police district, said it was "incredibly stupid".
If he saw anybody reading while driving he would charge them with careless driving.
He also referred to the case of former MP Richard Prebble.
Claims in 1986 by a Radio Windy commentator that Mr Prebble, then Minister of Transport, had been reading while driving led to questions in Parliament.
The answers were the subject of a privileges committee hearing, as was further commentary on the parliamentary answers.
A witness - the mother of the radio commentator - said she saw Mr Prebble with newspapers on his steering wheel and had appeared to comment while at traffic lights on something he had seen in the paper.
Mr Prebble said he had put the newspaper on his lap but had not been reading them.
The privileges committee found in favour of Mr Prebble.
* Distractions on the road
Last year's statistics on road crashes show 40 people died as a result of diverted attention. Reading is not listed. Reasons for distraction:
Cigarette, radio, glove box etc - 223 non-fatal accidents, 6 fatal.
Cellphone or communication device: 116 non-fatal, 1 fatal.
Driver dazzled: 205 non-fatal accidents, 5 fatal.
Advertising sign: 4 non-fatal accidents, 0 fatal.
Emotionally upset - 92 non-fatal accidents, 7 fatal.
Animal or insect in car - 24 non-fatal accidents, 0 fatal.
Passengers - 146 non-fatal accidents, 8 fatal.
Scenery or people outside vehicle - 145 non-fatal, 1 fatal.
Trying to find house or intersection - 42 non-fatal, 0 fatal.
Other - 154 non-fatal 9 fatal