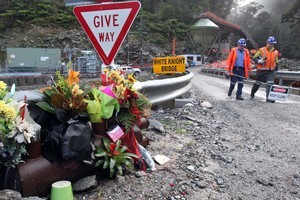 Grey District Mayor Tony Kokshoorn is due to fly to Wellington in the next few weeks to meet the Prime Minister and Pike River Mine receivers in a further bid to secure funds for the retrieval of the bodies of the 29 men, killed there in November 2010.
"We have brought home everybody from many mine disasters over 150 years of coal mining on the West Coast," Mr Kokshoorn said. "The exception is two men from the 1967 Strongman Mine disaster, where 19 miners were killed by an explosion."
However, Pike River receiver John Fisk tempered the Mayor's expectations, saying it would two to four years before the bodies could be recovered.
Mr Kokshoorn started preliminary talks with John Key when he was in Greymouth for the one-year memorial service.
The mayor will ask the Government, receivers and future mine owners to contribute funds to the recovery effort, and a separate trust will probably be set up.
On site at Atarau, a 100-metre vertical borehole down into the mine where the 29 victims still lie, is expected to be completed this week. Workers are expected to arrive on Saturday to complete the seal. A rapidly expanding grout, which sets like concrete, will be poured down to seal the main drive tunnel. The sealed off tunnel now contains less than 1 per cent oxygen, which is outside the explosive range. There is no heating or fire underground.
Once the new seal is in place, the main tunnel can be reventilated to allow Mines Rescue volunteers to walk the 2.3km into the mine as far as the seal.
Work can then start on how to get around the large rockfall just beyond the seal.
Mr Kokshoorn said progress was about to be made, but "it will take time getting into the mine".
"It has been a frustrating time for everyone involved in the recovery, let's keep moving forward."
- APNZ