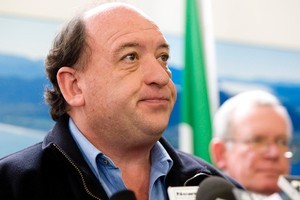 Pike River Coal boss Peter Whittall says he will mark the first anniversary of the first explosion at the West Coast mine privately in Wellington.
Twenty-nine men died in a series of explosions, starting on November 19.
Whittall was last week charged over their deaths when the Labour Department laid 25 charges in the Greymouth District Court against him and two other parties alleging health and safety failures.
He has vowed not to be "scape-goated" over the tragedy, saying he will fight the charges.
Today he said through his lawyers the anniversary would be a "difficult" time for many people, including Whittall.
"Mr Whittall does not wish attendance by him at Saturday's memorial service in Greymouth to take anything away from a day that should properly be focussed on those who lost family members on 19 November 2010," he said.
"He will therefore be marking the occasion privately in Wellington."
Whittall again expressed his "deepest, ongoing sympathy" to the families of those who died.
- APNZ