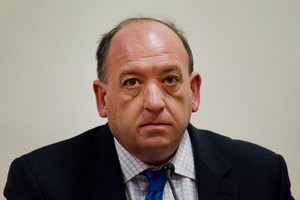 Pike River Coal chief executive Peter Whittall has told the Pike River inquiry he thought it was a drill when told about the explosion.
Formerly the mine manager on the West Coast until his promotion, Mr Whittall was in his Wellington office when he was called on November 19, an hour after the blast.
He asked if it was a drill because he knew staff were ready to do one, he told the royal commission of inquiry in Greymouth.
"I've never had a phone call to tell me there's been an explosion before. Initially I was quite numb."
Mr Whittall also said that the day a 55m-high vertical escape ladder was tested, he was dressed to go underground and staff were waiting for him in the mine, but he was redirected to corporate matters and spent the day in his office in overalls. Only two of the four men made it part of the way up because it was such a demanding climb, he said.
The ladder was planned as an exit from the 1990s, he said. In 2005, when tenders were called, that was again stated.
He rejected claims by his former health and safety manager Neville Rockhouse that it was never intended as a second exit.
Mr Whittall confirmed Mr Rockhouse told him he had researched refuge chambers on the internet and gave him a Google printout. It was not a proposal and had no funding or justification.
Mr Whittall said there was a lot of controversy over refuge chambers, and coal miners were trained to escape. He did not recall refusing to progress it.
Earlier yesterday, Solid Energy general manager Craig Smith said that on November 20, he did not realise the police were the lead agency, based at the mine and in Greymouth and Wellington.
He was unaware anything was happening offsite for some days. He left on the Sunday, feeling he could add little by remaining.
The expert advice being volunteered by Mines Rescue was not understood and was rejected by the Department of Labour.
Mines Rescue had been cooped up in a room at the mine site, on standby, and emotions were running high.
Mr Smith said Mines Rescue could not be held responsible for police ignorance of the situation.
- Greymouth Star