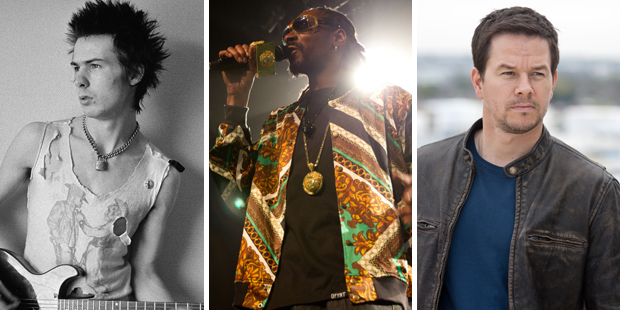 As the trial of South African double-amputee track star Oscar Pistorius for the murder of his girlfriend Reeva Steenkamp creates worldwide interest we take a look at other celebrities who have been charged in high-profile cases - and the verdict they received.
1. Fatty Arbuckle
The first major Hollywood murder: Roscoe "Fatty" Arbuckle was a successful silent film actor who worked with the likes of Charlie Chaplin and Buster Keaton. In 1918 he was one of the world's highest paid actors, earning $1 million a year.
In September 1921, Arbuckle hosted a party at the St Francis Hotel in San Francisco. During the party, would-be actress Virginia Rappe and Arbuckle ended up in a bedroom where screams were heard. When people rushed to the scene, Rappe uttered the words: "He did this to me". She died four days later of a ruptured bladder. Arbuckle was accused of sexual assault and manslaughter.
The verdict: After two hung trials, Arbuckle was found NOT GUILTY and received a formal written apology from the jury.
2. Phil Spector
Phillip Harvey "Phil" Spector was an American record producer and songwriter who successfully produced more than 25 Top 40 hits from 1960-1965. Originally working with girl-group bands he has also collaborated with Ike and Tina Turner and John Lennon. He produced and co-wrote You've Lost That Lovin' Feeling, which is listed as the song with the most US airplay in the 20th century.
On February 3rd, 2003 actress Linda Clarkson was found dead in a chair in Spector's California home with a single gunshot wound to her mouth. Spector claimed Clarkson had 'kissed the gun' and her death was an accidental suicide.
The verdict: After a first, hung trial, Spector was found GUILTY and sentenced to 19 years to life. He will be eligible for parole when he is 88.
3. OJ Simpson
Orenthal James Simpson, better known as OJ Simpson, was a professional American football player and actor who was charged with murdering his ex-wife, Nicole Brown Simpson and her friend Ronald Lyle Goldman who were found dead outside OJ's condo in Los Angeles on June 13, 1994. Although there was a strong case against him, including DNA evidence and a history of spousal abuse, OJ pleaded not guilty.
Verdict: NOT GUILTY
Civil court: In 1997 Goldman's parents brought a civil suit against Simpson for wrongful death. The jury awarded Brown and Simpson's children $12.6 million from their father's estate and $33.5 million to the victims' families in compensatory and punitive damages.
4. Snoop Dogg
Calvin Cordozar Broadus, Jr., also know by his stage names Snoop Doggy Dogg, Snoop Dogg and Snoop Lion among others is an American rapper, singer-songwriter and actor who has sold more than 30 million albums worldwide. In 1993 he was charged with murder when his bodyguard shot and killed Phillip Woldermarian, a member of a rival gang. Prosecutors claimed it was a coldblooded murder, with Woldemariam shot in the back and buttocks as he tried to flee from the confrontation.
Verdict: The trial lasted two-and-a-half years and both Snoop Dogg and his bodyguard McKinley Lee were found NOT GUILTY.
5. Sid Vicious
Born John Simon Ritchie, Sid Vicious was the bass guitarist and vocalist of the punk group Sex Pistols. He formed a destructive relationship with Nancy Spungen that was based on drug use. On the morning of October 12, 1978, Vicious called the police to tell them he had found Spungen dead with knife wounds to her stomach. Vicious was charged with second-degree murder and served 55 days in prison before being released on bail for $50,000.
Verdict: Vicious died from a heroin overdose before the case went to trial.
6. Robert Blake
Born Michael James Vincenzo Guibitosi, Blake worked first as a child actor and, after a brief time in the army, he continued work as an actor with roles including In Cold Blood and the television series Baretta. Blake met his second wife, Bonnie Lee Blakely in 1999 - a woman notorious for dating older, wealthy men. She was also dating Marlon Brando's son, Christian, at the same time. When she became pregnant she told them both they were the father. When a DNA test proved that Blake was the child's father he married Blakely in 2000. It was her tenth marriage.
In 2001 the pair went out to dinner and later Blakely was found shot dead in their car parked around the corner from the restaurant.
Blake was arrested for murder and solicitation of murder in 2002 and was granted bail for $1.5 million in 2003.
Verdict: In 2005 Blake was found NOT GUILTY.
Civil court: Blakely's three children filed a civil suit against Blake, claiming that he was responsible for their mother's death. He was found GUILTY and ordered to pay $30 million. He filed for bankruptcy soon after.
7. Mark Wahlberg
Mark Robert Michael Wahlberg is a former rapper, model and producer but is best known as an actor starring in films such as Boogie Nights and The Perfect Storm. He was also an Academy Award nominee for Best Supporting Actor in The Departed. A troubled youth who battled with drugs, Wahlberg was charged with attempted murder in 1987 for beating a Vietnamese refugee with a metal hook, leaving the victim blind. He pleaded guilty to assault.
Verdict: The charge was reduced to criminal contempt and as he had pled guilty, Wahlberg was sentenced to two years in prison. He served 45 days.