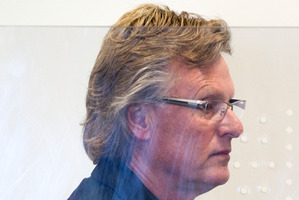 A financial adviser who spent some of the $4.7 million he stole from investors on flash cars and a lavish lifestyle was not entirely motivated by personal gain, his lawyer has told the Court of Appeal.
Evan Cherry, 55, was sentenced last December to six years and two months in prison with a non-parole period of three-and-a-half years.
North Shore District Court was told Cherry stole money from about 175 investors. Many of his victims were friends and family and even included the person who married him to his wife.
The money was spent maintaining a lavish lifestyle that included three Porsche sports cars.
At the Court of Appeal in Auckland today, Cherry's lawyer Sam Wimsett argued the starting point of sentencing taken by Judge Nevin Dawson last year - eight years imprisonment - was too high.
"He was an offender motivated to a large extent by a misguided and naive [thought] that if he kept it going he could make it work,'' Mr Wimsett said.
Justice Robert Dobson said those who invested with Cherry were not well off individuals who could sustain their losses.
Cherry clearly encouraged his clients to borrow more than they could afford to so they could invest with him, he said.
Mr Wimsett said his client wasn't entirely motivated by personal gain.
"He was in many respects a fool who tried to keep something going which was failing.''
Cherry had been a successful businessman in his own right before setting up what could only be described as a Ponzi scheme, Mr Wimsett said.
"This wasn't the first occasion where he had experienced wealth.''
Judge Dawson did not appropriately take into account Cherry's remorse at his sentencing last year, Mr Wimsett said.
At the sentencing, Judge Dawson said Cherry's remorse was prompted by the situation he found himself in.
He said Cherry provided himself a high standard of living but many of his victims had lost everything. ``It is quite simply disgraceful.''
Crown lawyer Todd Simmonds said today that Cherry sent investors false reports to disguise his offending.
He described it as a "typical Ponzi scheme''.
The Appeal Court reserved its decision.