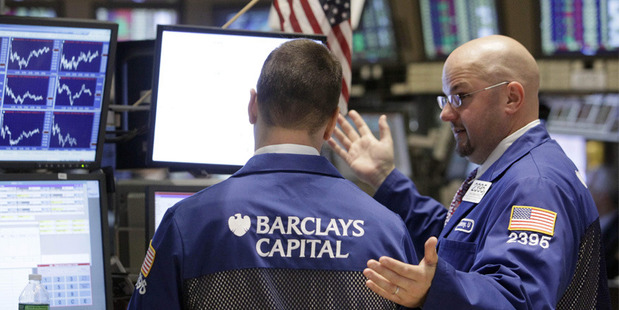 When I trade the markets I look at charts to find trade setups that match my trading strategy. The charts tell us things that words alone do not. In various international media this week I've heard that AUDJPY (Australian dollar vs Japanese Yen) is a favourite trade right now to the long side. Yet a glimpse at the chart shows me right now it is sideways and offers little to no good short term trading opportunities. That might change and when it does, it will get my interest.
Likewise, gold has made headlines with many predicting falls, others very bullish in the longer term. Right now the chart shows me gold is uninteresting and stuck in a sideways range. Stock indices such as the Dow Jones however are a different story. Stocks are in roaring uptrends and they continue to push to record highs. This is the kind of chart us traders look at for opportunity.
It's all about trading strategy, a topic that's visual so hard to put into clear words without supporting charts.
Strategy can take years to teach and my company has literally hundreds of hours of material we use to teach it. But, it's our speciality so time to get started explaining it. With 1000 words to work with let's begin with the headline components of a detailed trading strategy and in future columns I will delve deeper into some or all of these components:
1. Realistic expectations and goals
2. An understanding of probability
3. A set of combined technical ingredients that define 'precisely' where to enter a trade
4. A precise stop loss - based on a defined and consistent strategy, not a whim
5. Money management rules - how much to risk per trade
6. Risk management rules - how many trades to have open at any one time, correlated vs uncorrelated trades, risk of gaps, etc
7. A precise profit target or targets - again based on a defined and consistent strategy, not a whim
8. Trade management rules - handling news announcements, weekends, trailing stops and any defined reasons to exit trades prematurely.
9. A focus on flawless execution of the strategy to gain consistency
10. A process for changes and tweaks to the strategy
11. A solid administration system to track trades and results
12. A regular and unbiased review process
13. Confidence to stick to the strategy
14. Discipline to stick to the strategy
15. Competence to stick to the strategy
Most of the above components could have an entire book dedicated to the topic! I have already covered realistic expectations in a number of prior columns so let's delve into understanding probabilities as they relate to trading.
Let's start with a game where we flip a coin, if it lands on heads you win $10. If it lands on tails, you lose $10. It does not take a genius to realise that if we play this game 100 times, the most likely scenario is that you are around breakeven at the end of it. If one person ends up making or losing money after 100 turns, it is purely down to chance.
This is very similar to someone randomly buying and selling in the markets with no strategy or edge in their favour. Jack Schwager, the author of Market Wizards (a must read by the way for all budding traders out there) was famously quoted as saying "Trading is the only profession there is where the amateur has a 50:50 chance of getting it right". In other words, you can buy and sell at random and the market will still go up or down; it's a coin flip. There is a significant distorting issue that arises from these 50:50 odds and that is that winning streaks and losing streaks still occur. Let's say we flipped a coin 100 times, there is a very good chance there will be at least one streak of either 5 heads (winners) or 5 tails (losers) in a row. What if we flipped the coin 1000 times? A longer streak becomes likely. 10,000 times? Hopefully you get the point, the more we play the game, the likelihood of winning/losing streaks increases.
Now let's change the rules slightly and instead of having heads each time, you can choose your strategy and pick either heads or tails; you have been picking heads and there have just been five tails in a row, what do you do? Intellectually you might say "I will stick with heads because it's still 50:50". In reality and especially in the markets, amateur traders start changing things left right and centre. To use the saying of "they change their mind more than their underpants" would be a significant understatement. After five winners in a row the new trader feels unstoppable, they have cracked the code and begin to dream about how to spend their new wealth given the secret to success has being found. Risk management goes out the window because what is the point of risking small amounts when you never lose? Then, SLAP! The market teaches the trader a lesson and knocks them back to earth. It was just random; anyone can get five winners in a row with a bit of luck.
Five losers in a row is just as devastating but for different reasons. The newbie thinks trading does not work, the strategy does not work, the market is against them, their broker is against them; the next door neighbour's cat is even looking at them funny. At this stage they begin to change their strategy and mess up their own odds. To go back to the coin flip analogy, they have been consistently picking heads but after a string of tails they start trying to second guess the result of each flip which is actually impossible to do. They pick heads or tails randomly and wonder why they get random results and start to lose. This chopping and changing of ideas and strategies is a sure fire way to lose because even when you win or lose, it's all random and you have not learnt anything to execute consistently going forward to get more consistent results. Now they give up trading, either by choice or because they lost their capital, then comment on Nick McDonald's NZ Herald column that all traders lose money and are good-for-nothing-gamblers.
I am already writing too much this week and will continue with probabilities next week. You will no doubt be wondering how the trader gets edge in their favour since we have spent today talking about 50:50 odds of success? There are two ways we do this. First, we aim to win more than we lose e.g. win 50% of the time but our winners make $1.20 and our losers lose $1.00. Do that 'consistently' over 1000 trades and hey presto, you are now a profitable trader. The second way is that we look to increase our win % of trades. E.g. we risk $1 to make $1 but we are right 55 per cent of the time. The 50:50 discussion was to show that even my two-year- old son can be right 50% of the time in the markets. The experienced trader with a solid strategy looks for an edge in the markets, small or large it all adds up.
How do we do this? To be continued, I promise!
Nick McDonald is a New Zealander teaching everyday people how to trade the worlds markets via his company Trade With Precision.