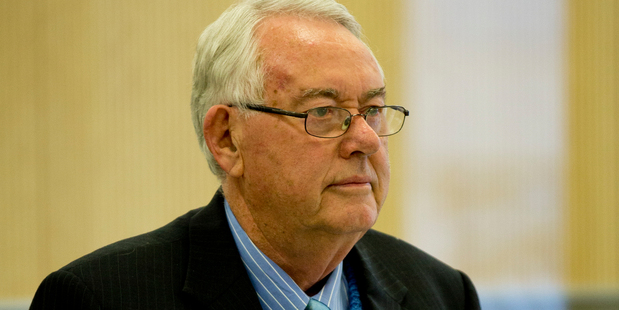 Neill Williams. Photo / Dean Purcell
Bankrupt accountant Neill Williams knowingly participated "in the misappropriation of investor funds" from the now failed Five Star Consumer Finance and "entered into unauthorised, uncommercial and highly imprudent related party transactions" , the High Court heard this morning
The elderly Five Star group founder - who has been declared bankrupt twice since age 60 - was sentenced to three years, seven months in jail earlier this year in a Financial Markets Authority case.
Williams' trial on separate charges brought by the Serious Fraud Office began this morning in the High Court at Auckland, where the accused pleaded not guilty to two counts of theft by a person in a special relationship and five of dishonesty using a document.
When opening the SFO's case this morning, Crown lawyer Brian Dickey said Williams was either in control or was a party to persons in control of investor funds and "entered into unauthorised, uncommercial and highly imprudent related party transactions" that breached the requirements of Five Star Consumer Finance's trust deed.
A trust deed dictates the terms and conditions between debenture holders (investors) and the company accepting the public's funds.
Dickey said the alleged offending related to the period between the middle of 2003 and middle of 2007 and involved Five Star Consumer Finance - one of the companies in the Five Star Group.
FSCF collapsed in August 2007 owing $54.4 million, of which $12.2 million has been recovered.
Other companies in the group, including Five Star Finance, collapsed owing more than $40 million, little of which has been recovered.
"In short, this case is based on circular transactions whereby [Five Star Consumer Finance] investor funds were misappropriated and used for the benefit of related parties or to conceal underlying and/ or consequential related party transactions, " Dickey said.
Williams was not a listed director of the Five Star companies but admitted he founded Five Star Finance in 1992 during a disputed facts hearing in the Auckland District Court earlier this year.
The Crown alleges today that Williams was not a listed director because he was declared bankrupt in 1995 and had been associated with two other failed finance companies - First City Finance and BWH Nominees.
Williams had also been involved in the Dairy Containers litigation in the 1990s, which had brought negative media attention.
Despite not being a registered director, Dickey alleged the accused was heavily involved in the operation of the Five Star Group "and was instrumental in running of the group from the outset".
At a disputed facts hearing relating to Williams' Financial Markets Authority case, the Auckland District Court heard how the accountant referred to himself as the "architect" of the Five Star Group, as well as the "eminence grise" - a classical reference to someone who hides in the shadows pulling the strings.
Williams other colleagues at Five Star, directors Marcus Macdonald and Nicholas Kirk, were jailed in 2010 after pleading guilty to charges brought by the Serious Fraud Office and Ministry of Economic Development.
They were released the following year after each serving a third of their sentences.
Another director, Anthony Bowden, this year finished up a nine-month term of home detention he was sentenced to last June.
All three directors are expected to give evidence for the Crown.