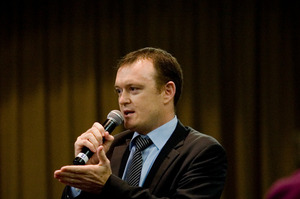 The board of giant listed property investor Argosy Property came in for a blistering attack from an institutional investor at its annual meeting this week.
Craig Tyson, OnePath equity investment manager, levelled poor performance criticisms at Argosy, which has total assets worth $929.3 million, at the meeting in Auckland.
Chairman Mike Smith had just told investors that the last year marked important milestones including internalisation of the management contract, sale of many properties and the business operating well within banking covenants.
Peter Mence, chief executive, also said the share price performance had outstripped the NZX50 and Property Index and property values were up for a second successive year.
But Tyson took on the board on many fronts, accusing the business of poor performance and complaining that the cash dividend had fallen from 10c in 2004 to 6c now, "despite market rents increasing for the most part over that time period".
Shareholders said afterwards they admired the way the dogged Tyson stood up to the board, in a quiet and polite manner, making many points which they backed.
He refused to back down in the face of directors' opposition to his stance, they said.
Afterwards, Tyson expressed frustration and said behind-the-scenes negotiations had failed.
"We have had meetings with the board who appear to have a different attitude towards risk than investors, which is strange since the board in theory works for investors," Tyson said.
"There are some glaring inconsistencies which needed pointing out," he said, referring to Argosy's home page on its website.
"It's inconsistent to be saying, 'Our vision is to be the low-risk listed property entity of choice in New Zealand', and have the highest gearing in the sector.
"It's inconsistent to be saying, 'the board's intention is to bring debt-to-total assets ratio to below 40 per cent in the medium term', and then increase your bank facility, announced on August 1, which if utilised, would take gearing to 48 per cent," Tyson said. "It is also wasteful because there is a cost associated with an unutilised facility."
At the meeting, he called for new directors, saying the same four - Smith, Andy Evans, Trevor Scott and Peter Brook - had been entrenched for the past eight years.
"We believe the board needs new blood and a rethink of its corporate strategy if it is to deliver for investors in the future," Tyson said.
Mence indicated Tyson was a lone voice.
"Other than Craig Tyson's presentation from the floor it was actually a very quiet meeting," he said.
"We will of course engage with Craig as we do regularly.
"The board absolutely respects the rights of any shareholder to make their views known at the meeting and will of course take shareholder views into account.
"We cannot of course expect the board to adopt each point," Mence said.
Argosy's shares closed up 0.5c yesterday at 88.5c.