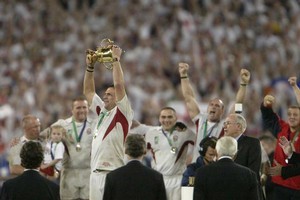 We've almost run out of distractions and sideshows.
We've had the adidas jersey brouhaha, a protracted exercise in biting the hand that feeds us, or at least New Zealand rugby. Given how many products can be purchased cheaper online than at the local retail outlet, it was hard to understand why there was such a fuss in this case.
Perhaps it boiled down to the fact that adidas was a soft target: a huge, profitable, international (make that German) corporation which has its gear made in parts of the world where people work their backsides off for small change. This is what corporations do; it's called capitalism.
We've had Telecom's Backing Black abstinence campaign. Any further comment on that subject would constitute flogging a horse that's not merely dead, but in an advanced state of decay.
The long-running debate over the handful of All Black squad selections on which there wasn't universal agreement is winding down, although Graham Henry did his best to prolong it by revealing his views, for what they're worth.
Now if all goes according to plan, none of the contentious selections will have to take the field.
Tonight's test in Brisbane wraps up the Tri-Nations phony war with its propaganda, mind games and selectorial subterfuges. From here on it's the real thing: injury scares, refereeing controversies - and if last weekend's example is anything to go by, the sky's the limit here - and scoreboard anxiety.
Fans will emerge from the tournament in one of two extreme states: euphoria or devastation. For the players it's more complicated. An insight into what they make of it all can be found in Union: The Heart of Rugby, a book that seeks to capture the essence of the game.
As the author of the text that fills the space between 150 superb shots from the world's leading rugby photographers, I spoke to a number of former greats who got their hands on the Webb Ellis Cup.
Sitting in the Twickenham dressing room after beating England in the 1991 final, Wallaby captain Nick Farr-Jones felt "a sense of deflation. We didn't play very well at the tournament. Our performance against the All Blacks in the semi was our best by a country mile. In the final we scored from a rolling maul. We won through our defence, scoring one lousy try."
To outsiders England's 2003 triumph seemed like a textbook campaign with the cadre of battle-hardened veterans never taking their eye off the glittering prize.
Yet according to their leader Martin Johnson, "What you remember is getting there - the journey. Winning the World Cup is great, but that's not what it's about. When we were wandering around the field after the final, it wouldn't have mattered half a per cent to me if we hadn't won."
Perhaps former All Black coach John Mitchell was on to something after all with his much-mocked mantra about "the journey".
This is the paradox: when the players are immersed in the tournament, they can't wait for it to be over; yet when it is over, the joy and relief at having achieved the goal is quickly overtaken by a sense of loss.
"It's strange," says Johnson. "When you're in the middle of it and you ask guys if they're enjoying themselves, enjoyment isn't necessarily the thing that comes to mind. That's because of the pressure - it's tough at times so you have mixed feelings. But it's addictive: nothing beats it, so you miss it when it's gone."
Last year South Africa's Joel Stransky re-lived the bittersweet experience of putting himself through the wringer in a worthy cause, and then suffering withdrawal symptoms: "I did an eight-day mountain bike ride for charity, absolutely torturous. Finally it was over and I was having dinner with my family: instead of feeling 'Thank God that's over and done with,' I found myself thinking 'What am I going to do tomorrow?' You give something your absolute focus for a given period, then you wake up one morning and it's been taken away from you."
It seems even being a hero and pulling off the sort of World Cup-winning feat of individual brilliance that boys daydream about and wannabes and never weres fantasise about can be something of a mixed blessing.
Stransky earned a place in the Springbok pantheon by kicking the drop goal in extra time that secured the 1995 World Cup. The problem was that in the public mind that single kick superseded all his other achievements in the game put together.
"I wasn't actually a great drop-kicker so when I was young and egotistical it irked me a little to be known just for that kick.
"Now it's just nice to be recognised."