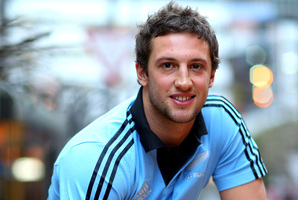 You have to take your hat off to Steve Hansen and the All Black selection panel - Tom Taylor was the right selection as All Black first five-eighth.
Regardless of the result last night - this column is being written before the match because of deadline issues and the fact that I am in another country right now - Taylor is a player who will be seen in this All Black jersey (and maybe others) more.
He hasn't just been selected for this game, though the injuries to Dan Carter, Aaron Cruden and Beauden Barrett make clear Taylor's place in the pecking order.
But Hansen had it right with his assessment that Taylor has the mental strength to succeed. Genetics have obviously played a role as he has much of his father Warwick's poise.
Earlier this year, the Herald on Sunday published a spread from four rugby writers - Gregor Paul, Wynne Gray, Patrick McKendry and myself - looking at the Super Rugby season.
One of the categories in which we all made selections was players we thought would or should ascend to the All Blacks. This was my verdict on Taylor:
"Taylor might not make it this year but by 2015...? He is ice-cool, a metronomic goalkicker, can play 10, 12 or 15 and has father Warwick's ability to make the right decisions in pressure situations. No rock star, perhaps, but he is the bass player who does his job without blemish and who allows others to sing."
If this is right, Taylor will have played a basic, simple but efficient game on debut last night. No frills, capable goalkicking, playing to others, playing the steering role well. There will have been not much in the way of brilliance but those around him will have shone.
Even if he has a bad night - it all depends on his forward pack and there's also no doubt he will have been targeted by the Wallabies in a kind of reverse Quade Cooperism - he has the basic skills, the time of a good player and, yes, mental strength to succeed down the road.
He may well now be a prime candidate for the end of year tour with his ability to cover three backline positions.
There is a lot of Carter about him - minus the fend, perhaps, and few in that position have Carter's defensive capabilities.
Maybe the only negative is that, out of the top four first-fives, he is the one least likely to threaten the line with ball in hand.
Some will figure Colin Slade to have been hard done by. Don't agree. Slade has ability. When his game is on, he is perhaps the best runner of the lot.
But whether it's his injuries or just a more mercurial disposition, Slade can be on one day and then off like old milk the next.
Who knows what he could have achieved had he had a better run injury-wise; he may well have fixed the consistency issue.
There's also a pleasing symmetry to this - father Warwick made his debut 30 years ago against the Lions and was a member of the first All Black World Cup winners in 1987. Typically, Taylor senior did nothing that will make fans really remember him from that tournament either.
But, just as typically, he was an excellent link between Grant Fox and Joe Stanley and the back three of John Kirwan, Craig Green and the incisive John Gallagher.
Taylor's distribution was first-rate, his decisions always the correct ones; he always made his tackles and he could time a pass.
After the 1987 Cup, he went back to being a PE teacher at Burnside High School and he can now be heard as a radio comments man at Crusaders and Canterbury rugby games.
Father and son are the type of rugby players for whom the rest of the team would always vote for inclusion. It's that simple. Their team-mates know they will get 100 per cent; they know they will get efficiency and they know players like the Taylors - unspectacular but who are close friends with the percentages - win them more games than not.
To my mind it doesn't matter that the Canterbury brains trust have played Taylor elsewhere and preferred Tyler Bleyendaal at first-five. Their needs are different - they need him to fill in more at 15 and 12 but, in my opinion, 10 is his best position. He reads a game well, has good kicking skills from the hand and is tactically astute.
In another pleasing selection, Brodie Retallick made the starting side ahead of the injured Luke Romano. The All Black selectors like the combination of Sam Whitelock and Romano, the latter used often with the ball in hand.
But Retallick has come on in leaps and bounds this season; his Super Rugby season for the Chiefs was excellent. He was one of their most consistent performers.
That was needed as he was one of those who attracted some worried glances after England beat a tired set of All Blacks so demonstrably late last year. The English forwards got amongst the All Blacks that day and Retallick was one of those who looked to have been monstered a bit.
However, he has come back strongly from that and has had a fine season of work rate and mobility and looks set for a long career.