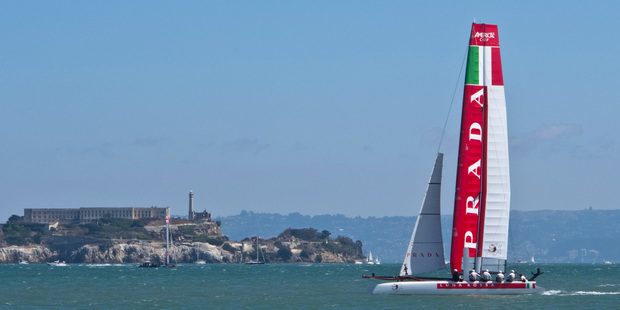 The spats between the America's Cup Event Authority and Luna Rossa continue - this time with the ACEA asking the Italians to cough up nearly US$400,000 over a hospitality lounge.
The ACEA have appealed to the international jury to force Luna Rossa to pay up after the Italians rejected the lounge built for them.
Here's the score sheet so far:
ACEA launch a jury protest against Luna Rossa for not showing up at the Louis Vuitton party and not bringing their AC45 catamaran to the opening ceremony;
Luna Rossa respond by issuing a protest against ACEA complaining that the authority, run by Kiwi CEO Stephen Barclay, had breached the Cup protocol by altering Luna Rossa's image for use on hoardings;
Now ACEA want about US$400,000 ($504,000) for a lounge they built which the Italians don't want.
If you thought the Cup was about sailing and not political ping-pong, think again. ACEA had earlier protested against Luna Rossa for not bringing its giant AC45 catamaran to the opening ceremony - and for not showing up to the Louis Vuitton party. The AC45's absence promoted talk they were about to pull out of the regatta, embarrassing to ACEA. This was also the time of "Ruddergate" - when Luna Rossa and Emirates Team New Zealand protested against proposed use of safety rudders that both teams felt would hand an advantage to defenders Oracle.
The Italians were apparently on the cusp of going home if the jury had found against them. More recently, they vetoed a proposal by Team NZ that stricken team Artemis be allowed to use the safety rudders to help get them back on the water and, more importantly, into the regatta.
The Italians may struggle to avoid the jury's displeasure on this. It is understood Luna Rossa allowed construction to proceed and did not call matters off in time.
However, all this political use of protests is doing nothing for the flavour of the event. The ACEA doing battle with one of the few syndicates that has supported the event is one thing. Then add in the fact that Artemis has benefited from having the US$100,000 fine for not turning up to each race waived - yet go straight into the Louis Vuitton semifinals.
You'd think the Italians' oversight or dallying might be worth a conciliatory gesture so the Cup can get on with what it is supposed to be about: sailing.